Sup C4AG, I'm Monte, and I picked up this after moving to PHX from Hawaii...
I'll keep it short since most of u like pix better than text, unfortunately half da pix will get cut in half but wtfe. So it was all stock, tow truck backed into the RF fender n headlight which I swapped out 1st, but it already came with
THIS!!!
Supposedly a JDM AE92
redtop
small port hi comp, identified by...
And the oil drain back...
And the chop n swap intake manifold...
Sooo... I've had it for 8yrs, got it running but could never get it to idle. It would jus surge from 1300-1800rpm unless u were on the throttle. Compression tests - pass, 190-195psi front to back. Leak down tests - pass. Removed IAC to clean n reseal, no change. Pulled countless vacuums on the cooling sys to remove any trapped air, uh uh. A ton of other techs over the years, have tried their hand at it, fail. Took it to Akina Motorsports waaaay back when, fail... I went back thru everything I could think of, threw a few parts at it, fail. Met owner of another local import shop, dropped it off at Suspicious Garage, fail. So I came up with this idea...
Twin Weber DCOE 45's, linkage, and a big port carb manifold but being that she's got a small port, I needed one of these...
Tried using stock pump and return style fpr...
Fail. So I picked up an in-tank Carter HVLP and a Holley LP dead head FPR
MSD tach asapter, MSD 6AL2, stripped down n modified GTS (I'm an idiot i kno..) harness, wired to a new bluetop dizzy and came up with this 8)
Scored some 15x8 +0 and 15x9 +0 from 2tone86...
Threw on some Espilir's I had and came up with this...
The rears were literally sitting on the virgin fender lips, so after snapping these pix I threw the stock rear springs back on...
Still got a ways to go and tons of things to buy but she's getting there.
Goals: Clean, track capable street car, like these...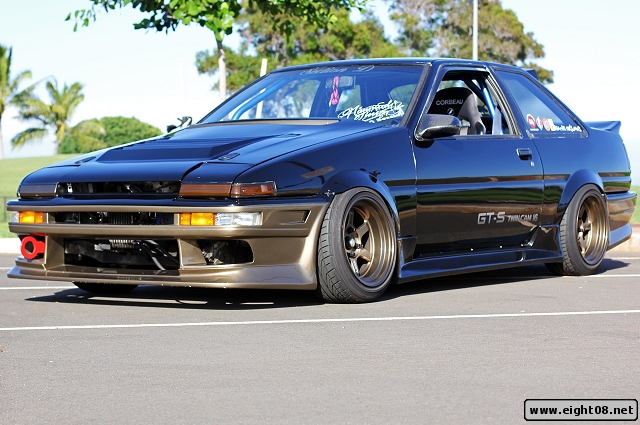 Current list of **** I still want (and ordering)is huge but includes:
- rotors, pads, front bearings, races, n seals
- new rad, fans, n T3 shroud
- Mocal oil cooler, lines, n sandwich plate
- Innovative wideband
- arms, links, bushings, bars, coilovers (want Greddy's REALLY bad but probly going T3 complete suspension front n rear)
- more street tires, Diamonds wit track stickies
- get a/c lines redone, condenser redone, and a new comp n accumulator
- tint n interior n paint last
Blah blah blah, that's all I got, here's how she runs right now...
http://youtu.be/wyvd4IZQKcY
shoots den