So here's the reason progress has been slow recently with my aw11 bike carb 4age build. I have been working on improving the design of my crankshaft position sensor bracket for the 4age engine and putting it on the market. Compared to my prototype and version 1.0 which was rough and made on a lathe the latest version is made on a CNC and it's simpler, smoother and just plain old better.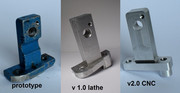 I spent a lot of time trying to find a local cnc company willing to work on a batch small enough and willing to change and improve the design as we go. I have to say that I am a bit proud of this and I think it's a really nice and elegant solution for adding a crankshaft position sensor to a 4age engine, and something that will be useful for the 4age community. I am selling these at 55 USD (international shipping included in the price), which is definitely a lot less than trying to have a custom one off solution made from scratch.
Just like my last one it's made out of a solid piece of aluminium so there is zero chance of any interference with the crankshaft position sensor signal.
Install is dead simple as the bracket bolts into two bolt holes on the exhaust side of the 4age oil pump, this and the fact that it's a solid piece means vibrations are a non-issue. The only thing that's untested is fitment with AC, but I already have a volunteer that will test it so I will update with that info as soon as I have it.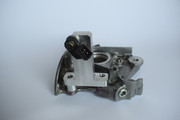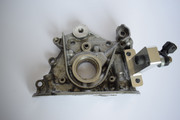 It can be used with both single and dual row crankshaft pulleys and various trigger wheels as both the height of the bracket and the protrusion of the sensor head can easily be adjusted with washers
If you need one, you can buy it on my little site/blog/shop:
http://www.driving4answers.com/product/ ... le-sensor/
or on eBay:
https://www.ebay.com/itm/Toyota-4age-cr ... 3717534425