Here is one definition of a spring...
A spring is defined as an elastic body, whose function is to distort when
loaded and to recover its original shape when the load is removed.
I prefer to think of it as a device for storing energy. Those of us
who have opened an old wind-up clock to see how it works, and had
the spring unwind in our face, already know that. And if you tried to
take the spring off your front strut without using spring compressors,
you could be carrying the scars of learning
When talking about coil springs, the strength or stiffness of the spring
is rated in lbs/inch or kg/mm. This defines how much the load on the
spring has to increase to compress the spring by another inch or mm.
The conversion factor is 0.0179 which means that 250lbs/inch becomes
250*0.0179=4.475kg/mm or 6kg/mm becomes 6/0.0179=335lbs/inch.
The stiffness of a coil spring is determined by the thickness of the
wire, the diameter of the coil and the number of active coils. As the
formula

for calculating spring stiffness is a bit tedious,
you could use the calculator provided by
Wallace Racing
However, you do need to know this...
1. The fatter the wire, the
stiffer
the spring.
2. The more active coils you have, the
softer
the spring.
3. The bigger the diameter of the coils, the
softer
the spring.
Then you will understand how these different types of springs work...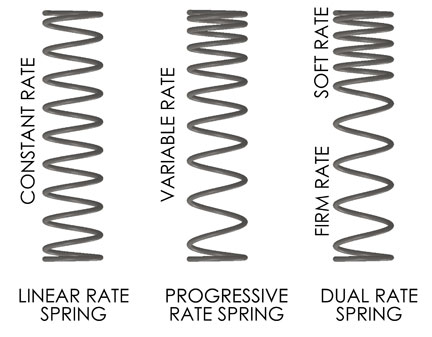 See
Springs for my Ride
for how this information can help you choose
the springs for your ride
Cheers... jondee86