Ok well this is my first 20v swap so be easy on me lol
I don't claim to know a lot but I try to figure it out...
So I got a wiring harness from mr220v it has the clip for
A 16v alternator, I have a 20v alternator so I either need
To get the clip for the 20v alt or get a 16v alt and bracket
I think I may just get the 16v alt and bracket cause of the alignment
Issue on the belt. Also I got a distributor relocation kit from a buddy
In japan and I have two different clips for the coil and igniter. One goes
To the fuze box on the right if you are looking at the bay from the
Front. The other is apart of the harness that goes across the bay and
I'm assuming into the ecu.
The one that goes to the fuze box: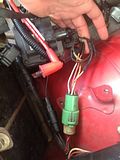 The one that is on the new harness: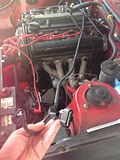 Here is the 16v alt clip: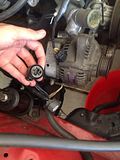 I don't know where the plug underneath goes
Other plugs I have no idea where they go:
This is behind the engine I believe it's apart of the same part that connects to the distributor.
Don't know where this goes: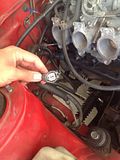 Also can't seem to find where the o2 sensor goes
It could be I am just getting frustrated lol
I've gone over Morgans awesome write up a billion times I feel
I've seen wiring layouts and diagrams, but wiring isn't really my thing
I'm in SoCal is anyone wants to help a fellow enthusiast out Lola the corolla
Is dying to get back on the road lol
Thanks in advanced guys !!
If anymore pics or information is needed just let me know guys !!
-Charles