This post follows on from
Talking about Springs
.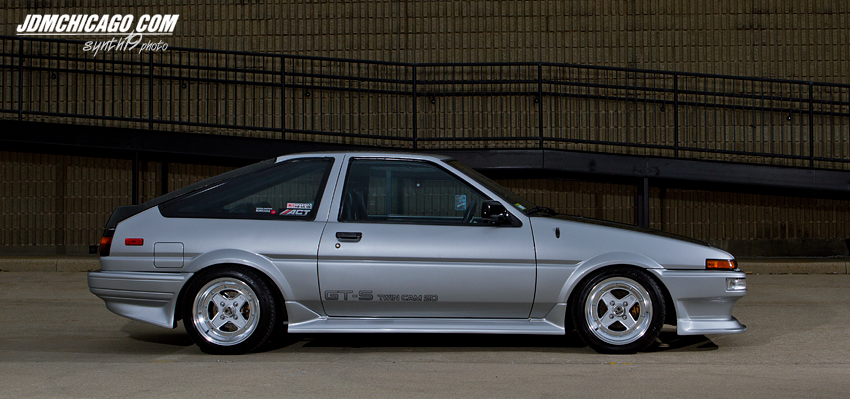 Changing the springs on your car is a choice that you make to get
the result that you want. Maybe you want
LOW
for looks. Maybe you
want
FIRM
for good handling. Maybe you want
SOFT
for a limo ride,
or maybe you want
HARD
for easy sliding. The choice is yours, but
just remember there is always a degree of compromise involved.
The job of the spring is to store the energy used to push a wheel up when
your car rides over a bump, and then push the wheel back down on the
other side of the bump. The shock absorber (damper) controls the rate
at which the wheel drops back down (rebound). The springs hold your car
up, so the ride height of your car is set by the springs.
For the springs to do their job, they must be able to compress freely when
the car hits a bump. Consider one front wheel of an AE86 that has about
300kg leaning on it and a spring rated at 5kg/mm. When the wheel hits
a small bump that generates a force of 1G the spring will compress by
300/5=60mm. If you don't have 60mm of bump travel, your suspension
will bottom out. Best case the bump stops will do their job and you will
just feel a kick in the butt. Worst case your suspension hits steel on steel
because you took the bumps stops out when you slammed your car, and
now your back hurts
Factory springs have thin wire, big coils and lots of turns. TRD coils have
thicker wire, big coils, and less turns than OEM springs. They are designed
to be used with shortened factory strut tubes and short stroke shocks. If
you install TRD springs on standard suspension, your springs will not be
captive at full droop, and that is bad. Worst case, your rear springs can
actually fall out if you get airborne over a big bump. As a minimum you
need to install short stroke shocks to limit the droop and keep the springs
captive at all times. Uncut TRD RACE springs look like this...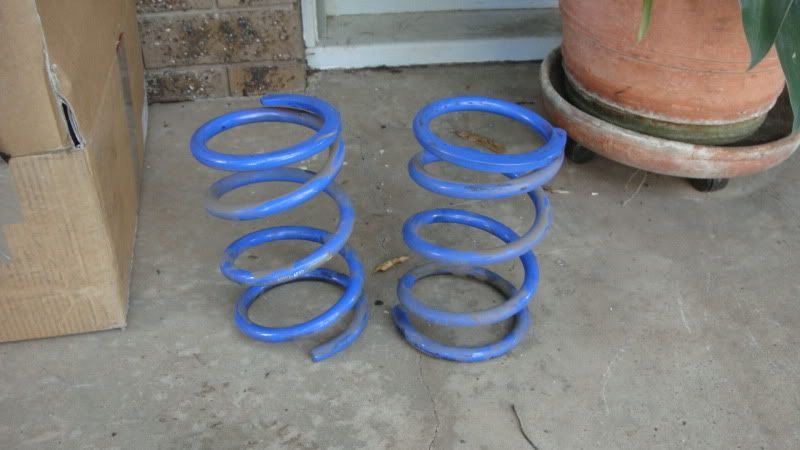 The point being that when you go low you are limiting your suspension
travel. That means you have to use stiff springs to stay off the bumpstops.
Coilovers typically use small diameter "racing" springs that are available
in a range of spring rates to suit the application. Good coilovers allow the
height of the car to be adjusted without pre-loading the spring. So you can
use a spring that allows sufficient suspension travel, while still being able
to set the car at the ride height you want.
Spring rate and suspension travel are linked... stiff springs need less travel
and soft springs need more. Coilovers like the BC units pictured above only
have around 60mm travel above the bumpstop. Allowing 2/3rds for bump
travel, this gives 40mm of bump and 20mm of rebound. That's enough for a
1G bump with the BC 8kg/mm spring... and when you are going fast it is
pretty easy to hit 1G bumps out on the street. Don't even think about trying
to use these with softer spring rates.
So when you are considering changing the springs in your car, talk to people
who have used the same springs and rates that you want. Better yet get a
ride in their car to see how it performs and feels. Don't cut springs. Use the
factory stuff until you can do the job properly. That means changing springs
and shocks as a package if you are going more than 25mm down.
Cheers... jondee86