AE86 16V - Throttlebody...
Posted: Tue Jun 10, 2014 8:41 pm
The 4AGE engine in the AE86 has a few different vacuum connections on the
throttlebody (TB) depending to which market the car was originally shipped. But
regardless of the market, the basic details and connections remain the same.
In some markets where certain accessories (A/C, P/S etc) were not fitted as
standard, the connections were simply capped off. The following pics identify
the most commonly referenced air passageway around the throttle butterfly.
The AAV Port is where air passes into the auxiliary air valve (AAV) that controls
the cold start idle. Water from the engine cooling system circulates around the
wax filled capsule, causing the wax to expand as the engine heats up, and the
AAV slowly closes to reduce the amount of by-pass air, bringing the high cold
engine idle down to normal (typically 2200rpm cold down to 900rpm hot).
This is the opening that must be temporarily blocked off to check the operation
of the AAV. Also visible above the AAV opening is the opening for the idle air
by-pass which is controlled by the Idle speed adjusting screw, located down a
tube on the side of the TB.
On the 16V 4AGE the cam cover vent enters the side of the intake manifold, and
then a channel cast into the side wall of the manifold takes the fumes forward
to the TB. A port in the TB matching to the end of the internal channel allows the
fumes to pass thru the TB casting and exit via a hole in front of the butterfly.
On the FWD TB the hole is at 10 o'clock, and on the RWD TB the hole is at 2 o'clock.
Thus, the astute observer will deduce that the TB pictured is a FWD version.
EDIT: Pic added to show internal channel...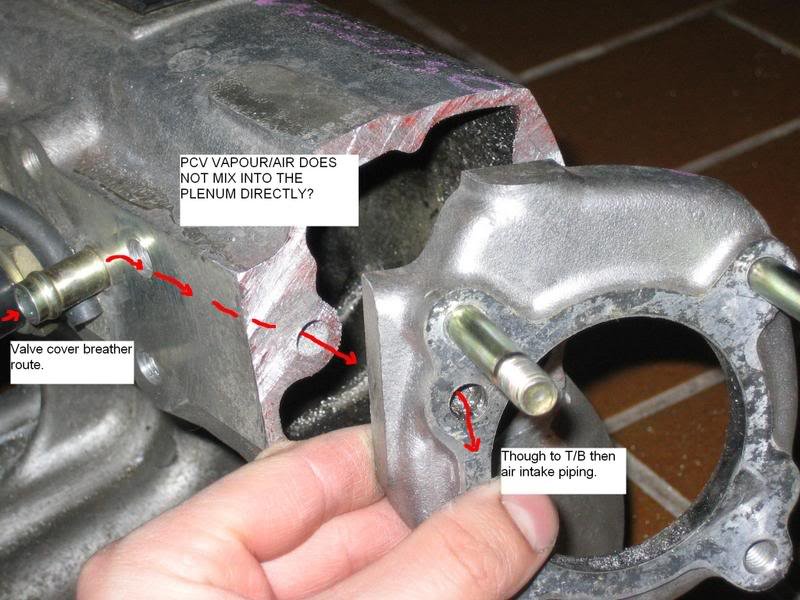 What I found when doing the cut-n-shut modification on a smallport manifold was
that there is a small "pinhole" of maybe 1.5mm dia drilled thru the inside wall of
the channel and into the manifold itself. The purpose of this vent would be to
allow a small amount of engine fume extraction into the manifold when the engine
is idling. At idle blowby is minimum and manifold vacuum is high, so this small vent
would help prevent fumes from backing up in front of the closed throttle plate.
Cheers... jondee86