So i thought i would post this up in some of the other forums for all to enjoy.
Last sept i pick up a 1992 ae95 corolla wagon. For those unfimilar with the ae95 is awd. It uses a drivetrain setup similar to the celica gt4. Mine in paticular is a automatic transmission. Which unlike the manual trans corolla mechanical center differential locker the auto uses a viscous coupling so no big vacuum drum of the t-case. After getting the CAT (corolla all-trac) i drove it for a little over six months when it spun a rod bearing. What can i say with 240k miles on it.
Well the plan from the start was a new drive train so with the engine down what better time then now. I already had a 4agze from an 89 aw11 mr2 and a sc14 supercharger from a previa. So the engine went of to the machine shop and soon come back good has new. Put togther the new engine made custom brackets and intake piping including a very custom designed n/a bigport intake manifold and a water-to-air intercooler setup from a st165 celica.
The spec.
Chassis
AE95 corolla all-trac wagon.
EPS (electric power steering) i cannibalized a steering column from a 2004 prius and graft it on the stock steering column of my CAT. Then powered it up with the eps ecu from a 2006 yaris.
Air bag helpers in the rear coil springs ( for the heavy wieght she will carry.)
Polly bushing for the complete rear suspension. (Same has an ae86 rolla.)
Strut brace from a geo prism gsi. (Same brace has a ae92 corolla gts).
Frame rail in engine compartment mod to clear sc14 pulley.( hit with big hammer!)
17" aftermarket wheels not sure on brand. But looking to drop down to a 16"
Brakes stock for now. Upgrades planned.
Shocks upgrade also planned.
Interior.
Custom dash mat and floor mats cut to factory spec with "4agze/All-Trac" embrodiered.
Review mirror from 2010 tundra with auto dim, compass and homelink garage remote.
Radio Pioneer app radio 2.
Infiniti 3 1/2 inch speaker up front.
4 inch alpine in the rear.
JL 10inch sub.
Gauge custom installed into the instrument cluster just above fuel level gauge. Gauge is a plx dm-100 with imfd for afr wide band, boost vacuum, and two fluid temps. One for transmission, the other for coolant temp for the wta intercooler.
Drivetrain.
4agze
Sc14 supercharger
Water-to-air intercooler from st165 celica.
Tvis bigport n/a intake manifold. Installed with out tvis plate. Original throttle mount plate over with 1 inch port fort ABV to connect, then inlet mounted to center of the mani.
All custom intake piping.
Throttle body from 1mz camry v6. Still placed before supercharger.
Aeromotive fuel pressure reg.
7mgte fuel pump
Morosso oil catch can.
Igniter from a early 90s camry v6
Ignition coil, dis cap and wires from a rolla gts. (Distributor rotor is stock 4agze.)
Rebuild 4agze top and bottom with clevite 77 bearings, cosmetic metal headgasket and arp head studs. (Distributor mod to clear stud)
Stock injectors and ecu. Ecu is from a mr2 automatic.
Transmission is stock A241H which has the same clutch and bands has the A241E found in a mr2 automatic 4agze, and the transfer case has the same viscous coupling has the celica st165.
Now for the good part!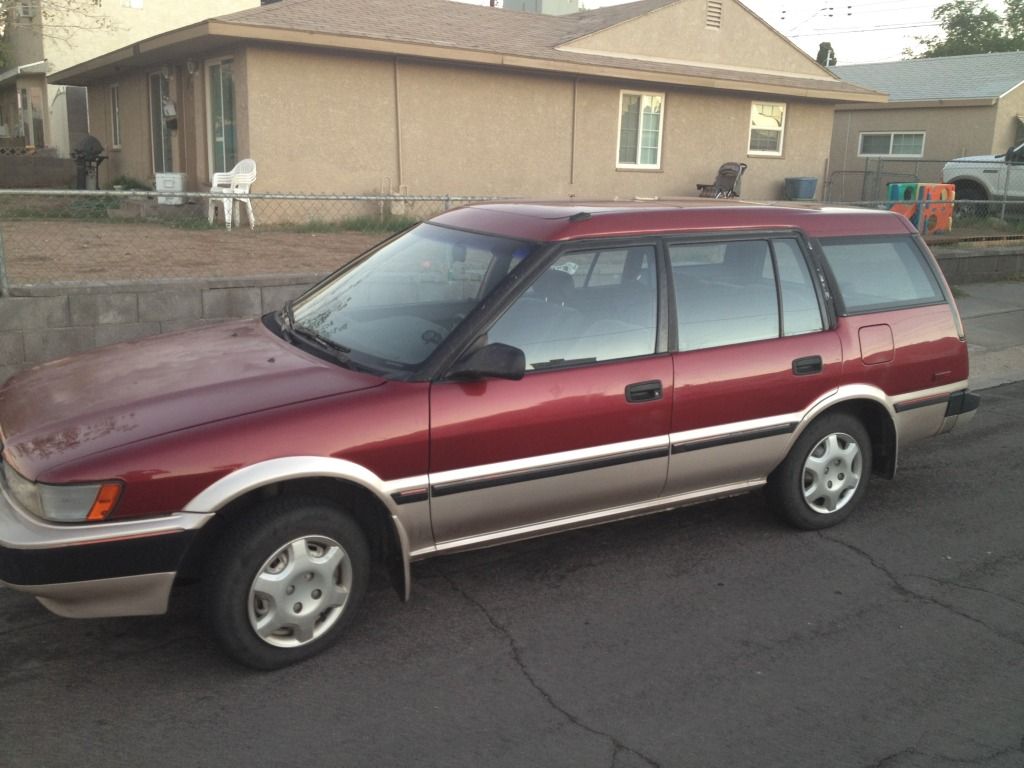 This is the first pic after picking the ride up and a 1100 mile drive from bend oregon to arizona!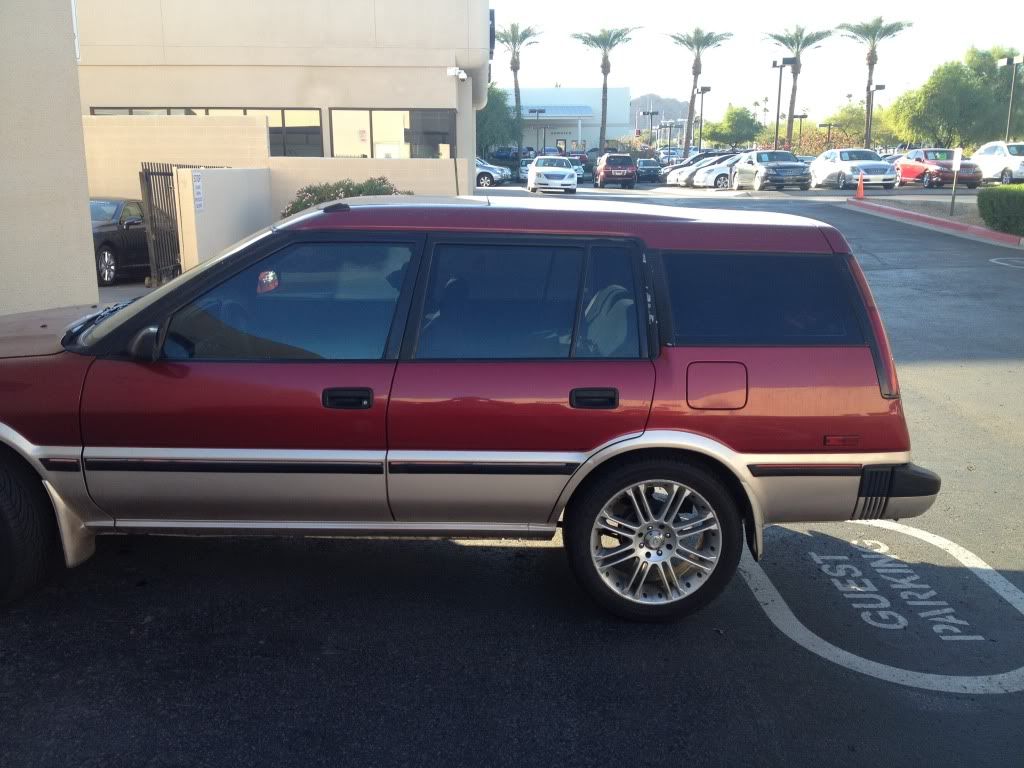 Window tint and new wheels.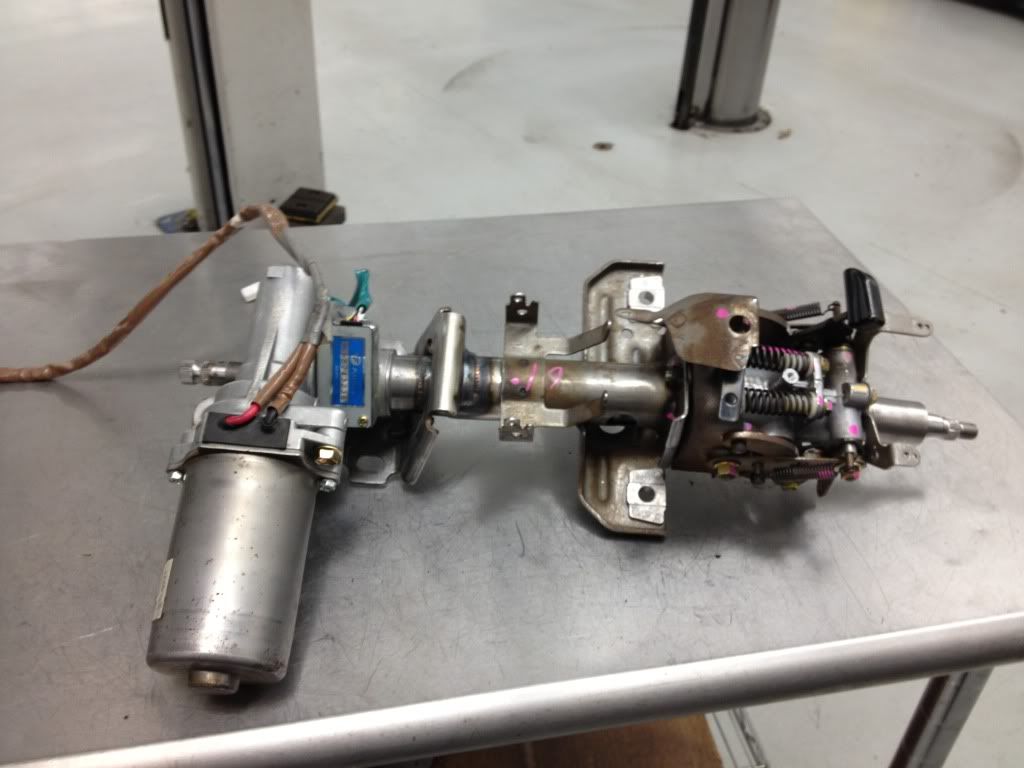 Steering column ready to install with eps.
Engine bay before.
Custom mods to intake mani.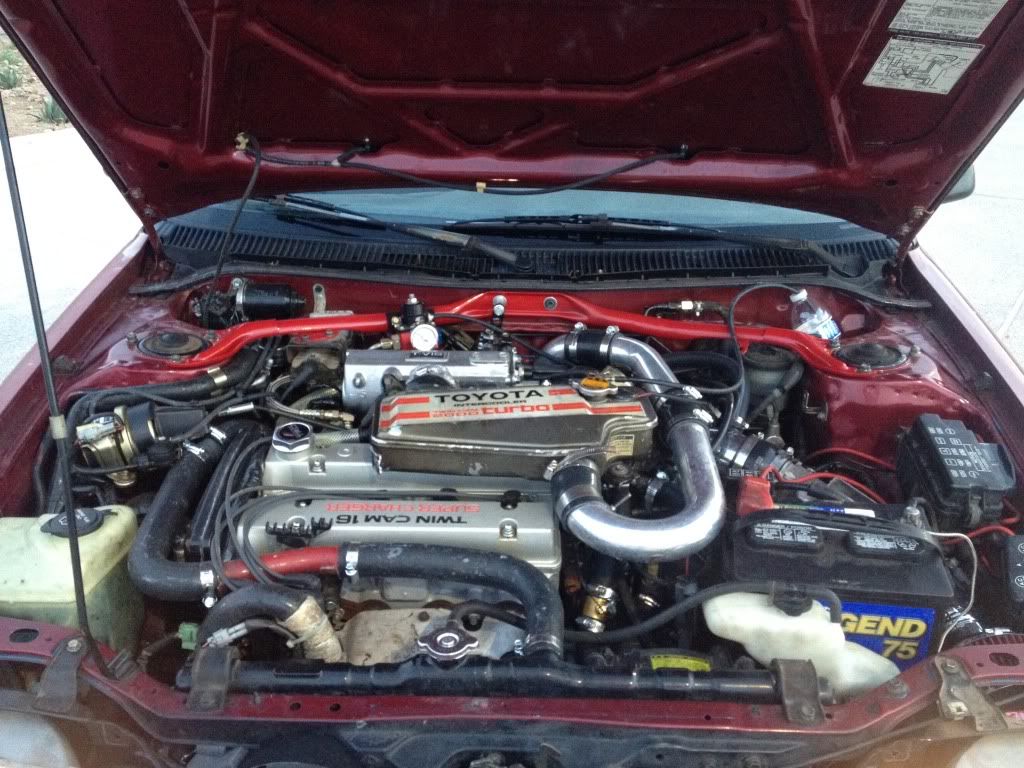 Engine bay after.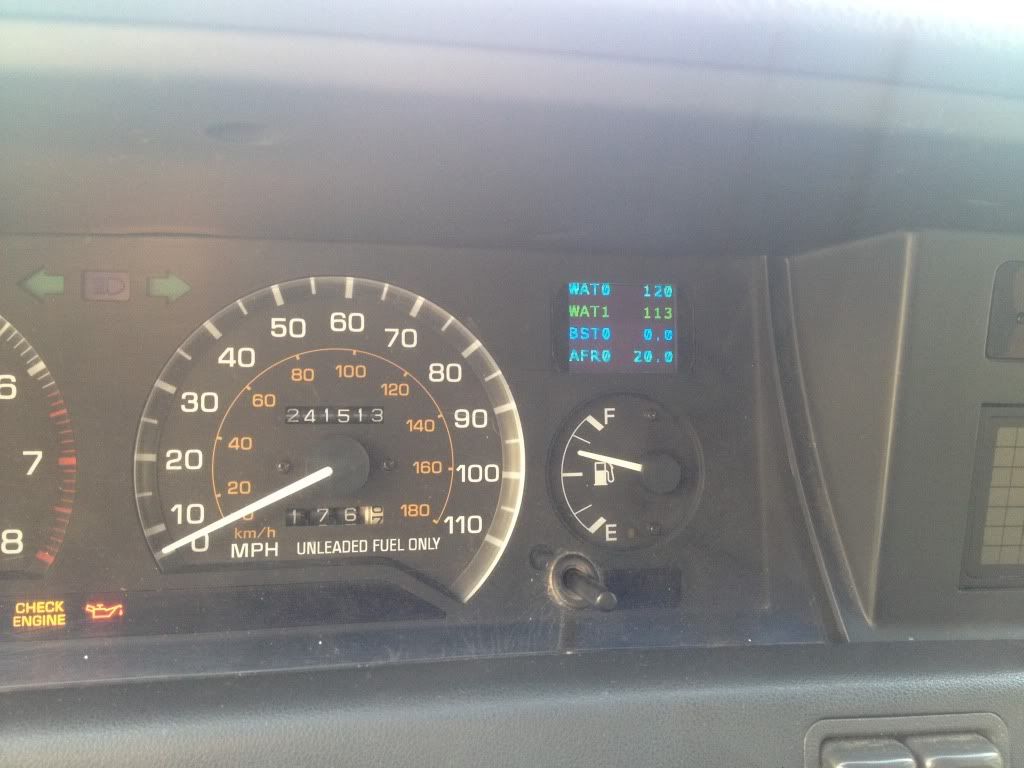 PLX Devices dm-100 gauge mounted in instrument cluster
The ride after a good wash!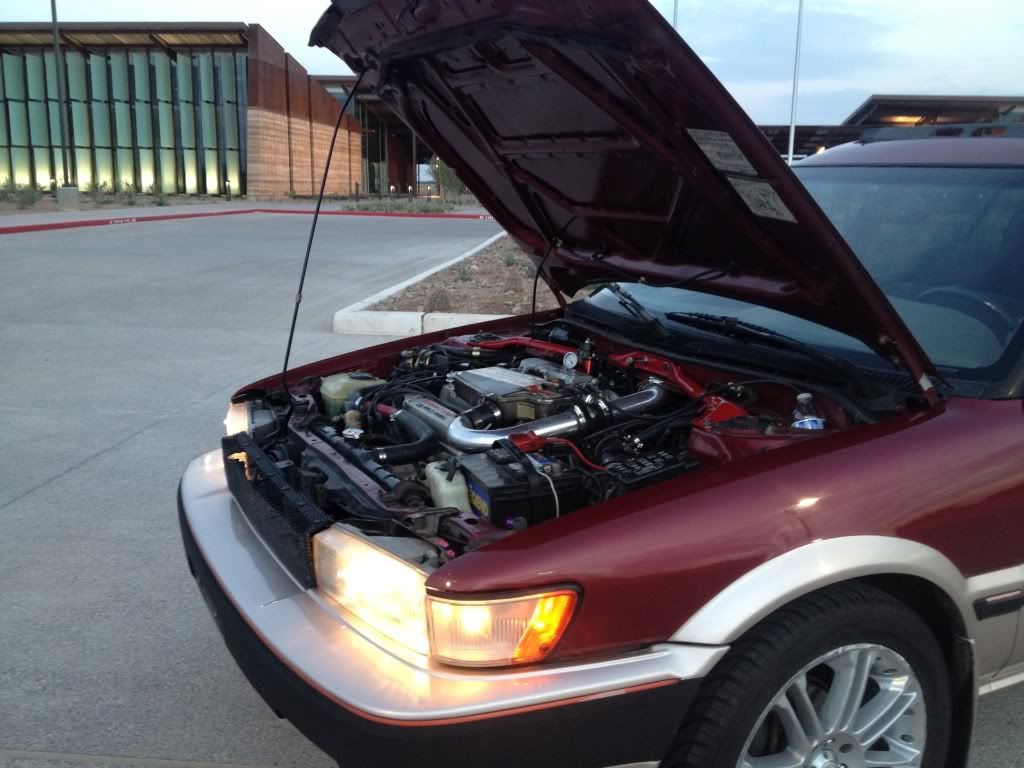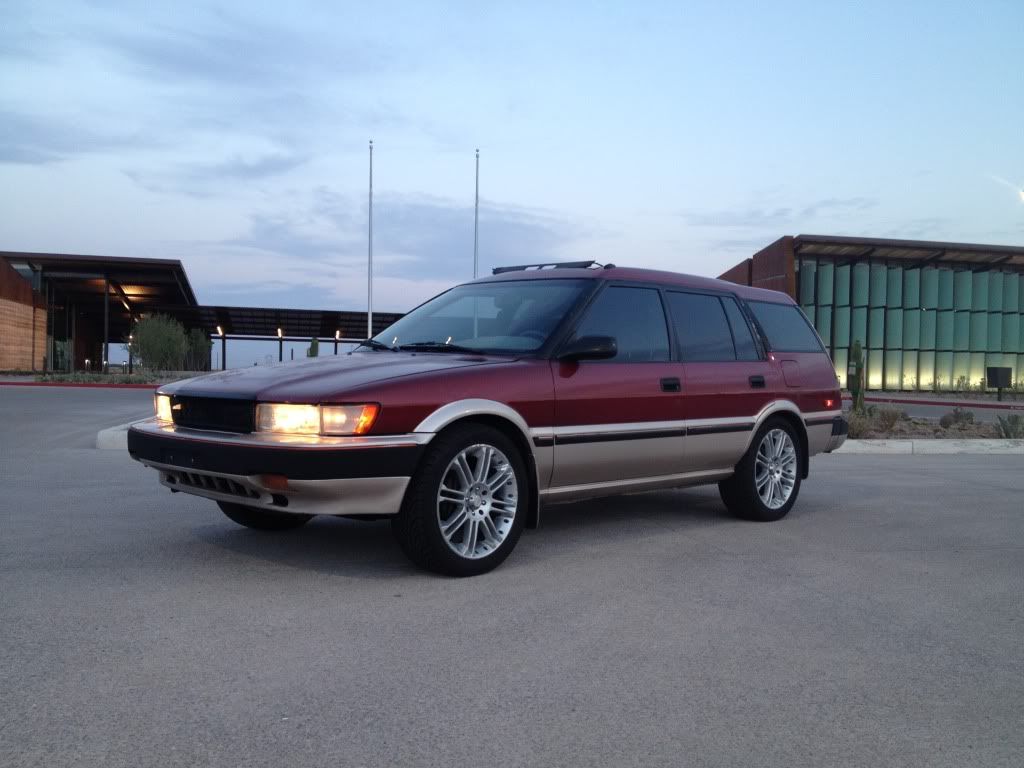 Check at my build over at
http://www.alltracwagon.net/forum/m-1347147405/