Hi guys,
Thought I'd share a bit of my coupe with you.
Heres how it started about 2 years ago: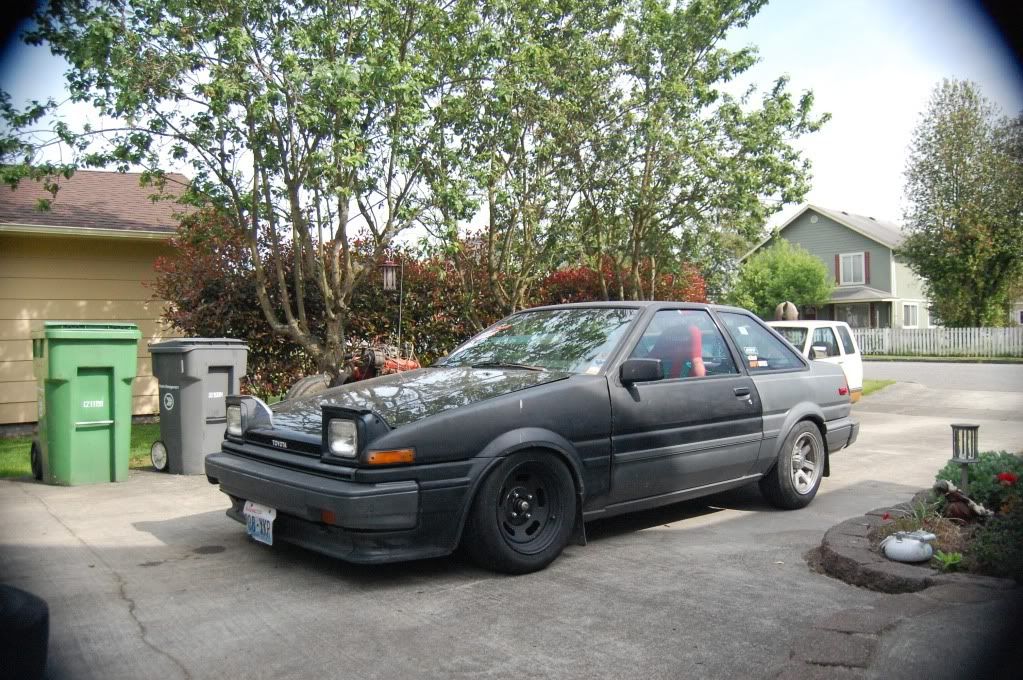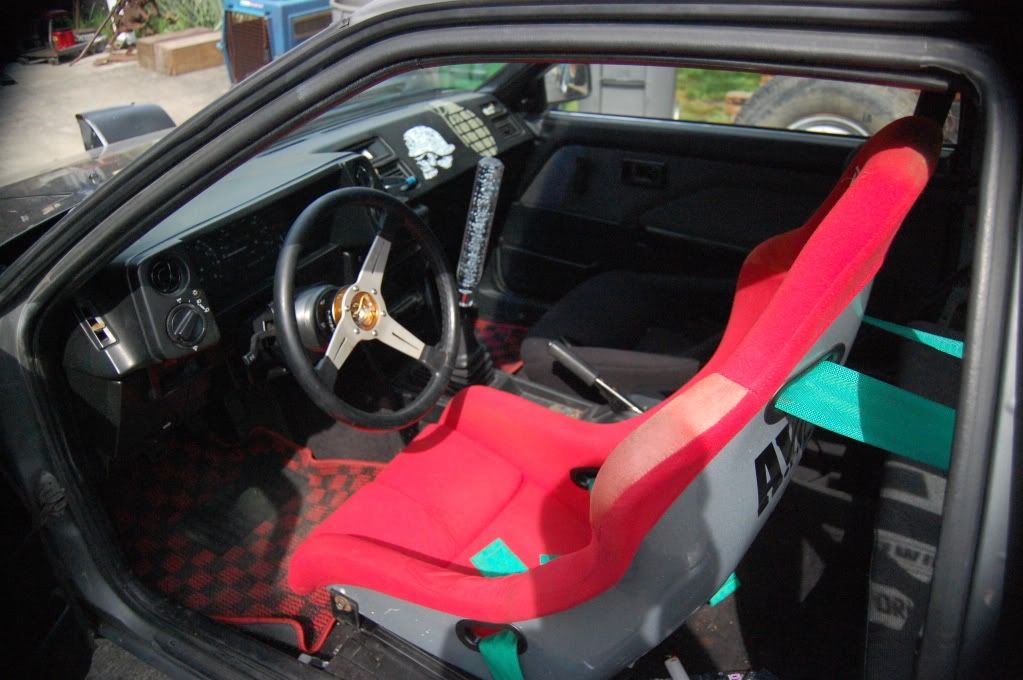 It had a pretty basic list of "mods":
Spooled diff, Buddy Club Spec 2, End links with Polyurathane bushings, stainless steel brake lines, T3 coils , Tein camber plates, Tanabe strut bar, Cross drilled and slotted rotors, Sparco Sprint 5 (Still FIA certified), Lightened flywheel, Sparco Sprint, NRG harness bar,NRG quick release. It was fun, but lacked that "wow" factor.
Fast forward 2 years and here we are: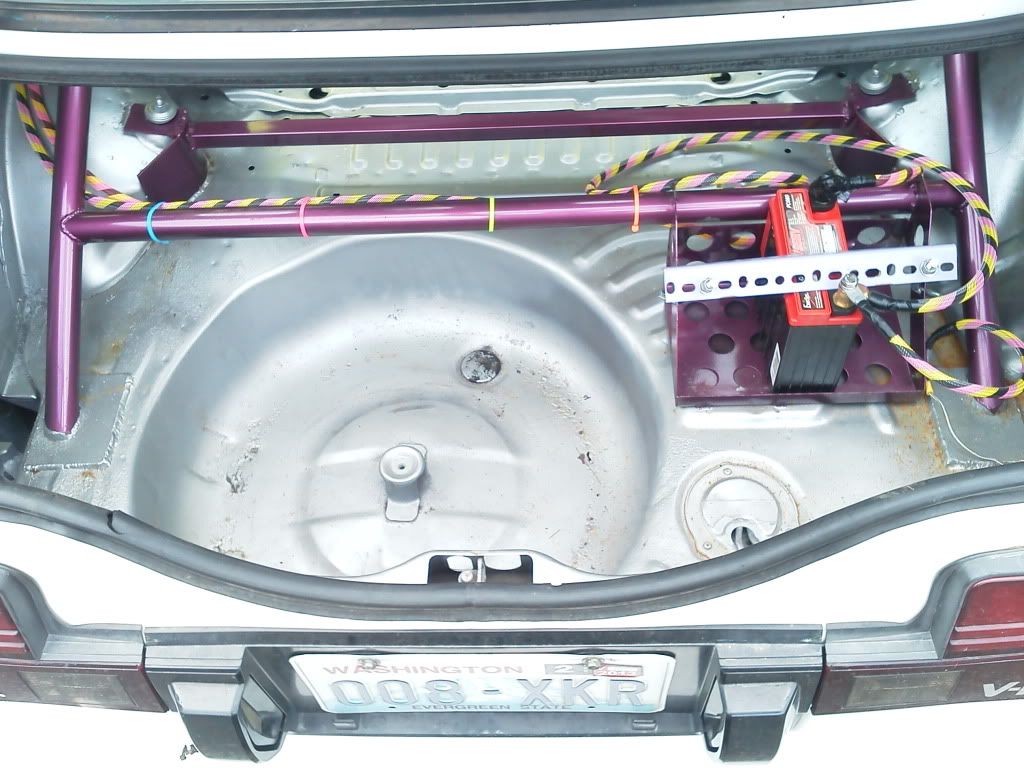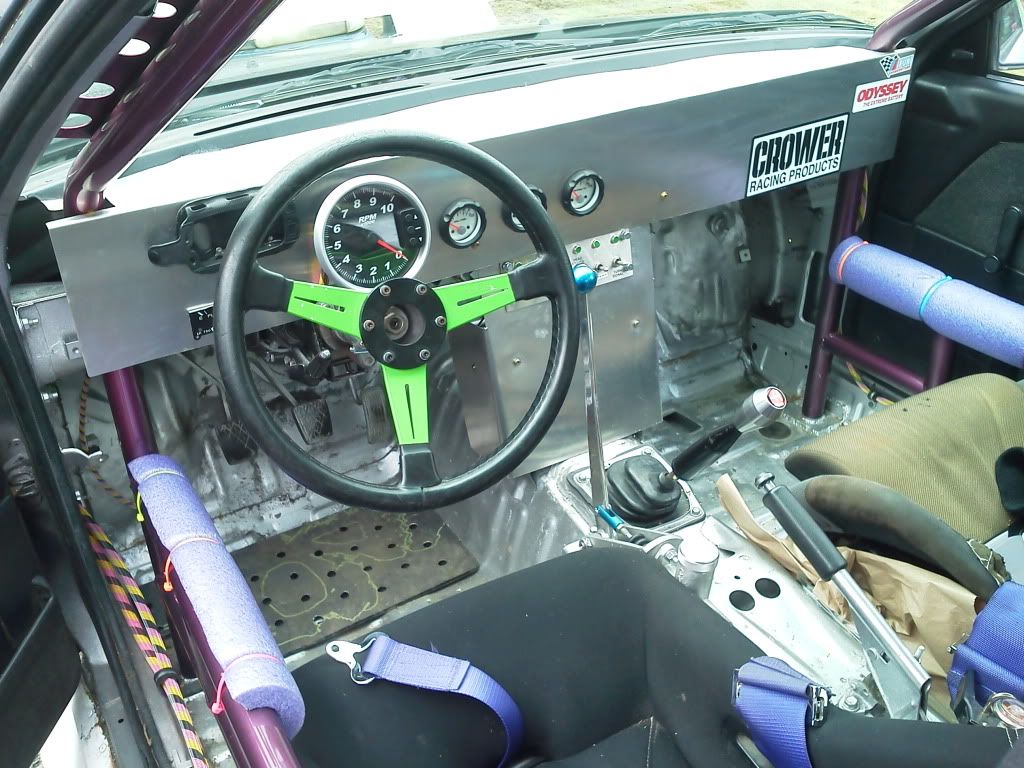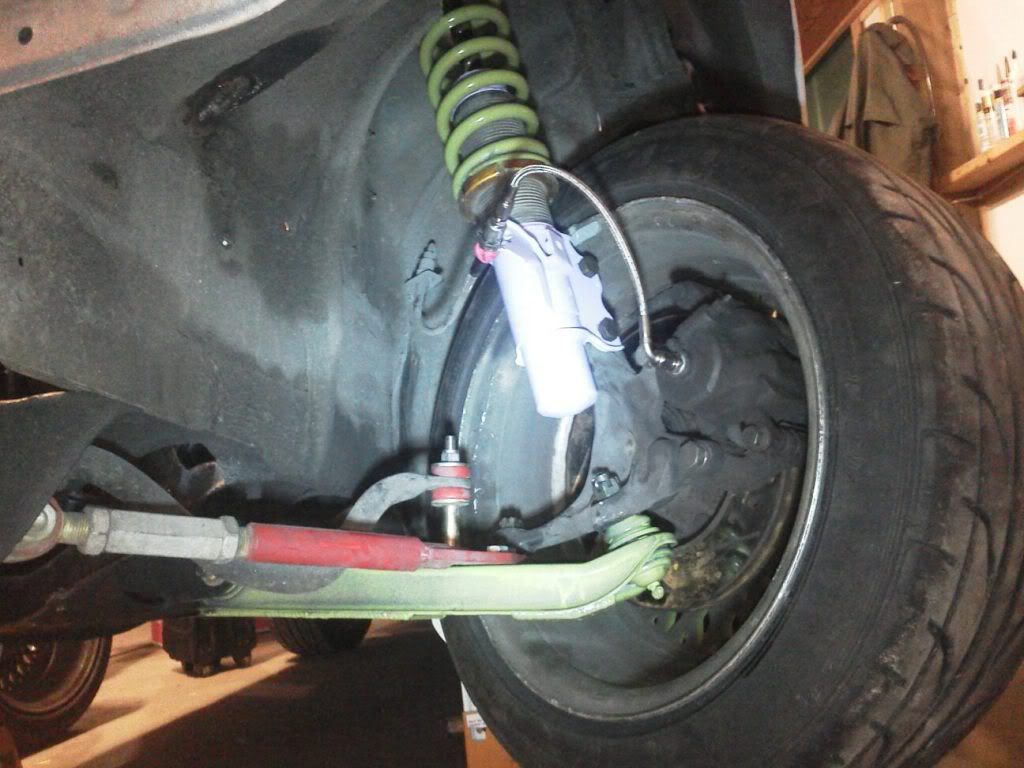 Heres a run down of the new parts:
EXTERIOR:
Dura flex front bumper, fiberglass aero, origin rear widebody, cut and widened front fenders, made drop vent for hood and power by maxx hood spacers, neon green lexan rear windows, enkei mesh up front American racing mesh rears. Dunlop dz101 star spec fronts, dz101 rears all four 195/50-15.
INTERIOR:
FD Spec cage, sparco sprint drivers seat, buddy club passenger, corbeau purple sfi harnesses, aluminum dash and center display, apc gauges, factory fuel gauge, summitt stepper tach, nardi 370 wheel, used a Ron Francis bare bonez chassis harness and switch panel. The cell phone holder on dash is what I use for my speedometer.
ENGINE:
Silver top block, blue top head, bored to 83mm, custom head gasket, compression is around 11.5:1, je forged pistons, crank and rods where tempered, arp rod bolts, high volume oil pump, fully rotation assembly balanced, head was lightly ported, 3 angle valve job on supertech valves, toda valve springs, crower full race cams and hks cam gears, oil filter relocation and rx7 oil cooler, godspeed radiator with dual fans, custom overflow tank, mikuni phh 44mm race carbs, t3 pulley set and trigger wheel, Ford EDIS with autosport labs ignition controller, obx header, t3 test pipe to buddy club under axle with supertrapp tip, light weight flywheel and xtd stage 3 clutch.
SUSPENSION, DRIVETRAIN, BRAKES:
T3 tension arms, front suspension is custom 240sx DIY coils, 240 lca that are boxed, 240 crossdrilled rotors and calipers, I get 62 degrees of steering angle, one piece drive shaft, weir solid pinion spacer with 4.77 spooled rear end with oversized weir axels, rear trd adjustable greens, lowering 6k springs, crossdrilled rear rotors with potterfield r4s pads, steel braided lines on all four, booster delete with willwood master cylinder, cnc hydro hand brake with willwood dynalite rear braking system.
It is soooooo much fun now. Theres just a few issues I have to work out, like the EDIS system on the manifold, it likes to heat up and cut out at ~8,500 RPMS when it should go to ~9.5-10,000
Cliff notes:
This: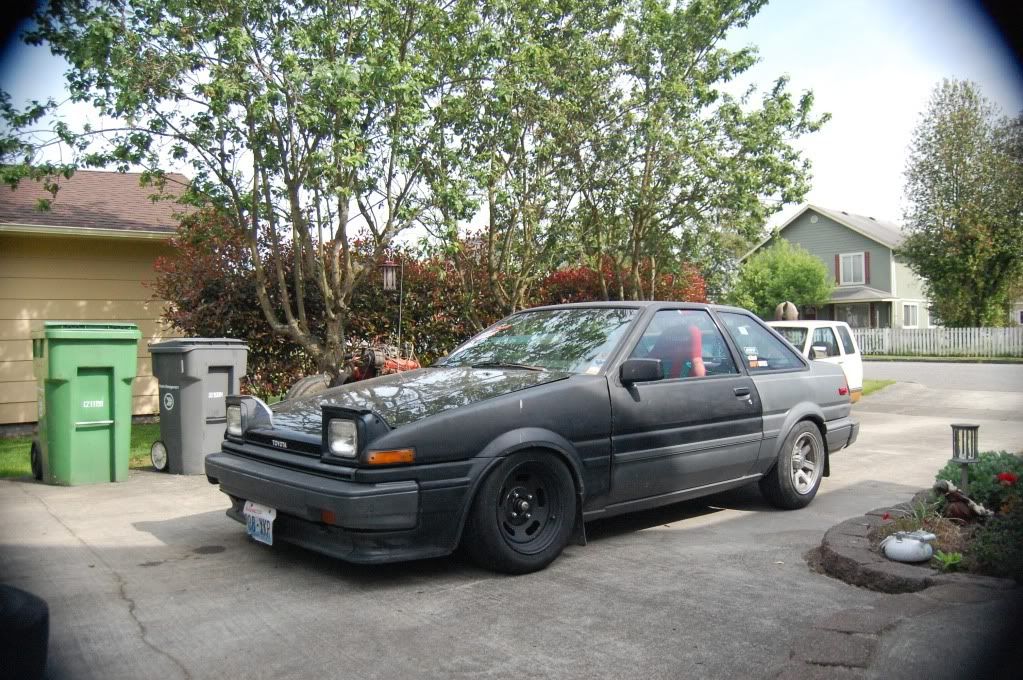 To this: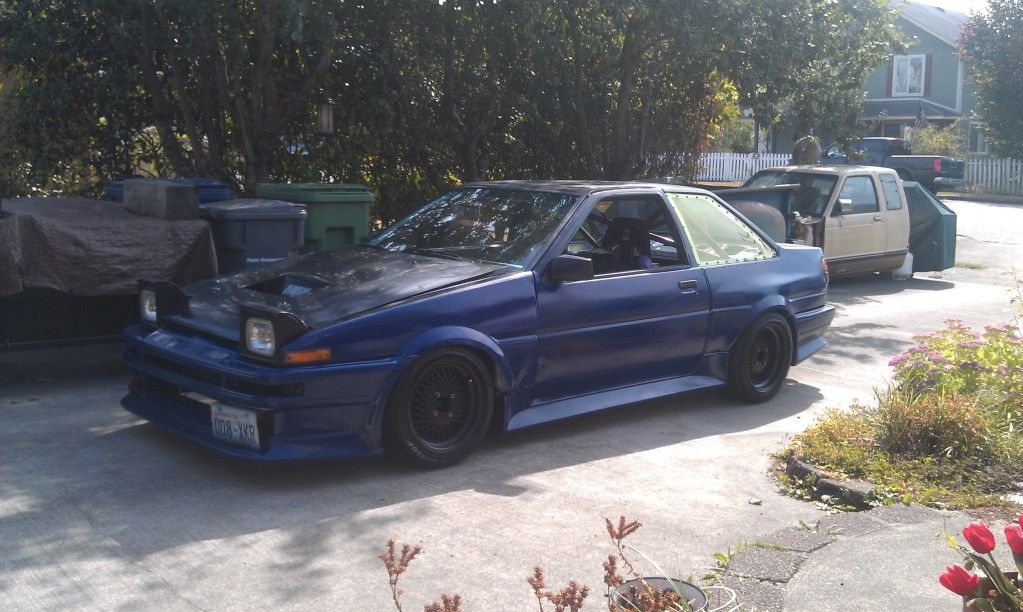 Then the head cracked. Swapped it out and got tired of the headaches with this motor.
I just picked up this from a buddy:
Full CA18DET swap for into an AE86. Has a lot of oil leaks and blown turbo, but the price was right. Ordered a complete gasket kit along with ARP head studs from the amazing Russell @ Nissanparts.cc today. Got half of it torn down today.
Anddddd test fitted the FMIC:
Last week I picked up a T28, Earls SS turbo lines, ACT 6 puck, DEI turbo blanket, GKTeck reclocking kit and a few other goodies. Stripped most of the CA down, getting ready to ship the head off to the machine shop.
Plans are to pretty much rebuild this motor, swap it in, and have fun next season with a reliable engine! Cant wait!
Tore it down to the block:
Then put it back together: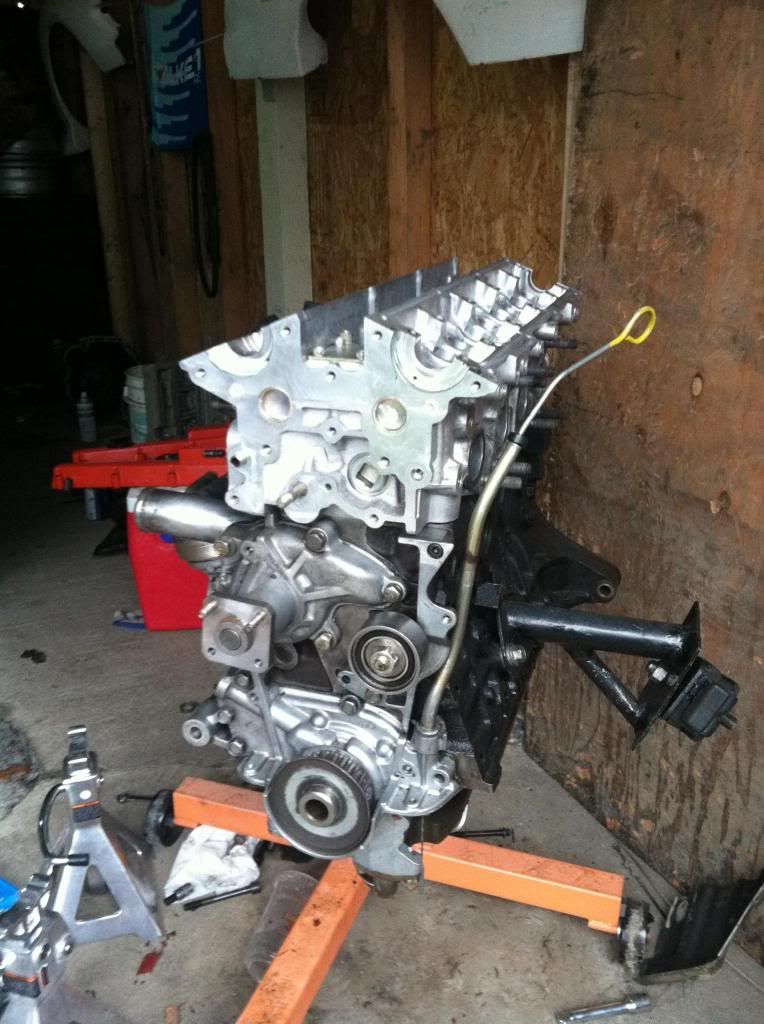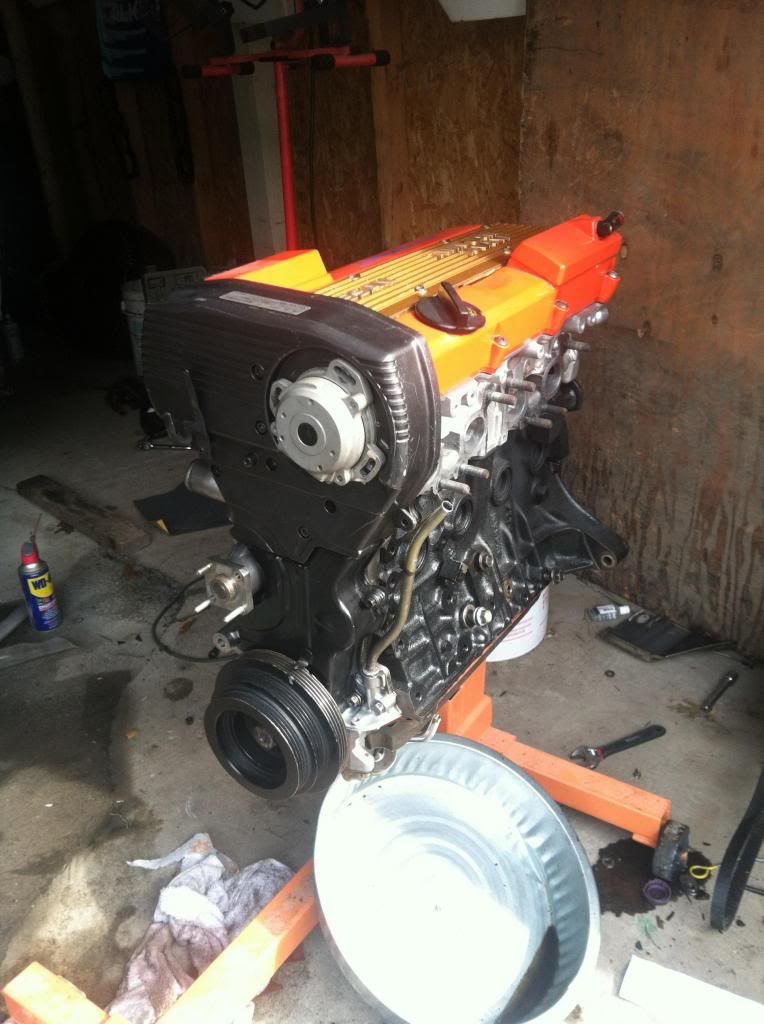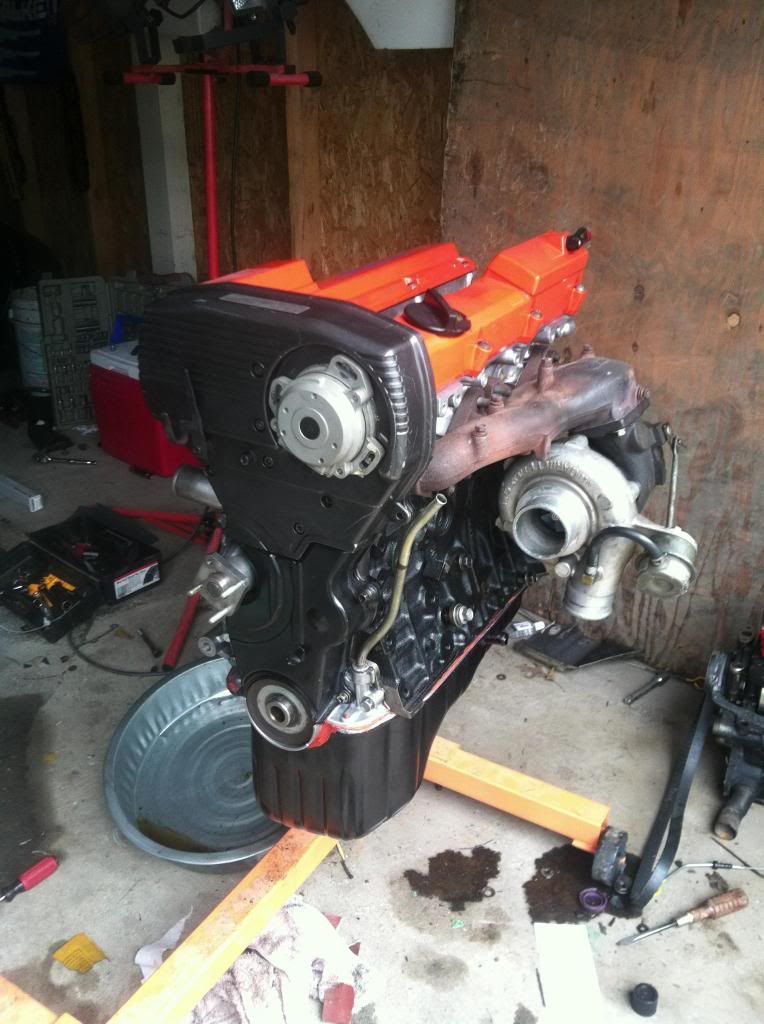 Right now Im finishing porting and polishing the manifolds, along with moving my rack forward to stop over centering