marley4us wrote:Awsome thread!

But I have to chim in... "broke college kid" thread title and you just bought a house!!! hahah WTF, I dont know what state you live in, but I sure as hell know it is not California hahahah Wish I could own a house and be broke before I do it hahah not after!


keep up the posts when it warms up!
HAHA yeah im definitely not in Cali, KY is A LOT cheaper lol. I got a roommate and live with my GF now so that helps too.
Zakae71 wrote:Do you live in Ohio?

Nope but I have been there a couple of times with the corolla. Also it used to live in Ohio before I got a hold of it.
Smallish update...
So I wanted to fix a small rust spot on my drivers side rear fender, but one thing led to another and BAM whole interior gutted.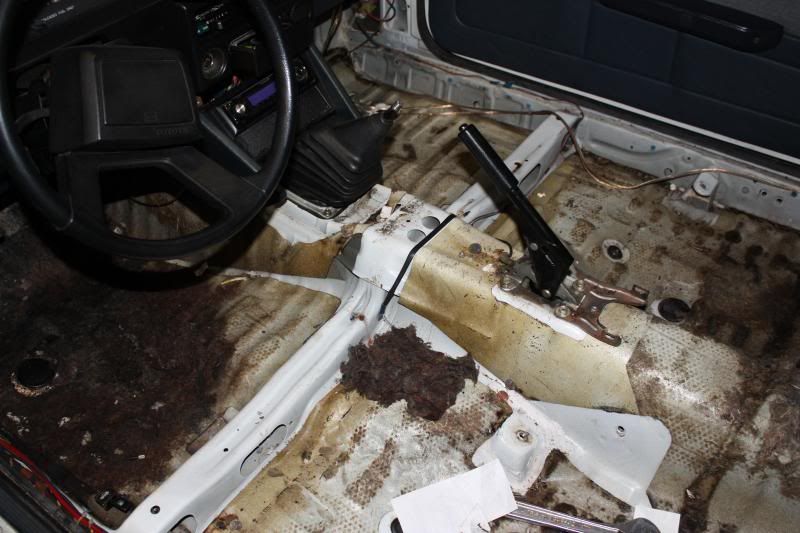 Idk what happened behind the drivers seat but i guess at one point in time the previous owner spilled oil back there. it was nasty.....
oil filled carpet mush..
The day I got the car the clutch master cylinder went out but before it broke, it was leaking for a really long time. Needless to say the driver floor pan was caked in a mixture of hydrolic fluid, carpet cushion and paint. However very minimal rust which I am happy about
Looks like I might have caught it before it got any worse
old sound deadening removed soon to be replaced with dynamat
more updates to come