Hey Guys,
Been on and off these forums for a few years but never put up my build for those on the other side of the world.
This car started off as being a daily driver which I drove to University etc. Was my everyday car which started with a 7agte and made 330kw atw.
I then got bored and wanted a billet 7afe crank as there have been a few failures here in NZ when using the engine for circuit racing or drifting (happens around 1-2 seasons of racing, so fairly good but I dont want it to happen to my engine).
Then decided why not increase the stroke if im going to go through all the trouble of getting a proper billet 4340 counter weighted crank custom made.
Current power output: 410kw atw E85 28psi (28psi then dropped off to 26psi by the time 8000rpm was reached as the turbo was maxed out)

= approx 627hp Flywheel


346kw atw on 98 pump gas 26psi
All done on a stock blacktop head, ports not touched at all. if we put a bigger turbo on most likely could achieve around 430kw+.
Port the head and stick in bigger cams 700hp+ is easily obtainable.
It has run a 10.88@209.57kph on the 1/4 mile with 330kw and done very well on the circuit as well.
Took it to the drags and stuck on some smaller DOT drag radials from what I used to run. Result = No grip and still spinning at 200kph with 400kw.
So have brought some M&H DOT Cheater slicks. Will get back out to the drags to try run a decent 10s pass then after that back to circuit racing.
Engine
7afe block with MRP 1900cc Stroker kit -
MRP 90mm Billet 4340 Custom crank
MRP Long rod setup billet 4340 1.52:1 rod/stroke ratio
MRP special designed CP pistons for low bore friction
MRP Crank Girdle
Custom 7/16" ARP Head studs (head drilled out to suit)
TRD Headgasket modified for larger studs
Stock 20v Blacktop head with Supertech Valve springs and Toda Poncams running VVT
BHJ Race Harmonic dual row balancer
Gates Racing timing belt
Toda billet oil pump gears
OEM ITBs
Custom twin scroll manifolds with 2x wastegates
Turbonetics T3/4 54/62 Billet compressor turbo rated to 550hp
Exhaust
3" Stainless Steal
Varex canon muffler
Fuel
E85 AEM intank pump
Surge tank with E85 intank pump
1250cc FIC Injectors
Aeromotive FPR
Cooling
HDi GT2 Fin & Tube Intercooler
MRP 2-piece plenum with 40mm velocity stacks
Setrab Oil Cooler
MRP Thermostatic adapter plate
Audi Alloy radiator with swirl pot setup
2x electric fans (10" & 8")
Driveline
MRP custom billet flywheel
Tilton OTII Twinplate clutch
E52 gear box with custom ratios & TRD LSD
Billet axles
Brakes
Wilwood Superlite 4 pot 315mm Fronts
AE101 oem rears with Hawk HP+ Pads
Suspension
Fortune Auto 510 Series with custom valving
MRP RCA kit
Whiteline sway bars
Interior
Half Cage
Border bucket seats
Autometer gauges
Radio
Exterior
Custom front lip
16x9 Varrstoen V3 Wheels
225/45/16 Dunlop 03G semi slicks
Chassis
Ultra racing fender bars
Custom chromoly tube radiator support Top & Bottom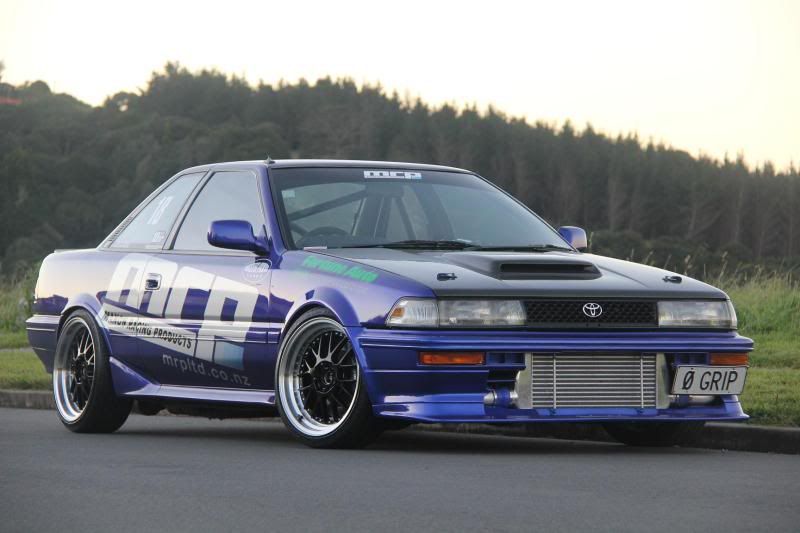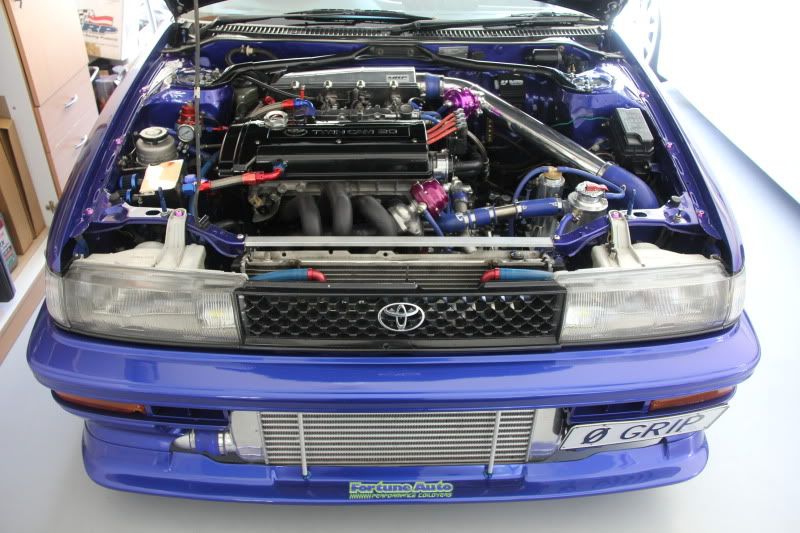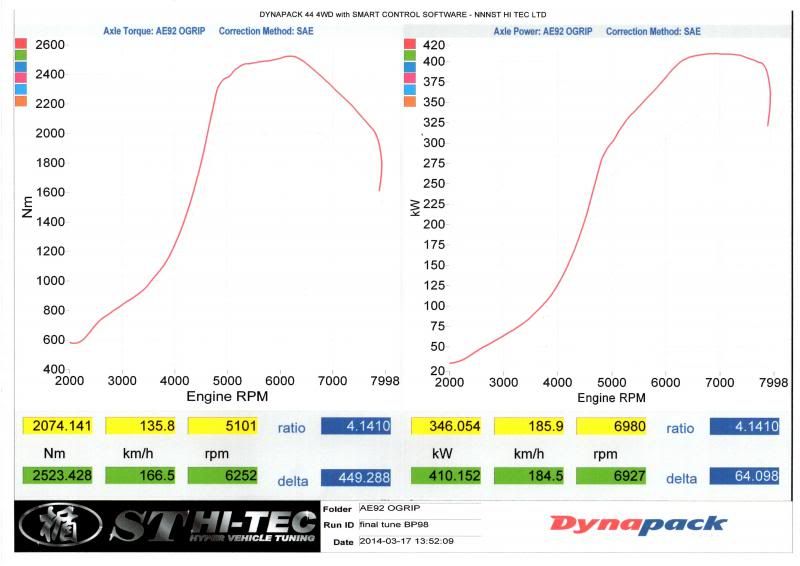 Dyno Plot
Stroker Kit Parts (pics not of a high comp piston, not the pistons I have, check pics further down)
Drags back in 2009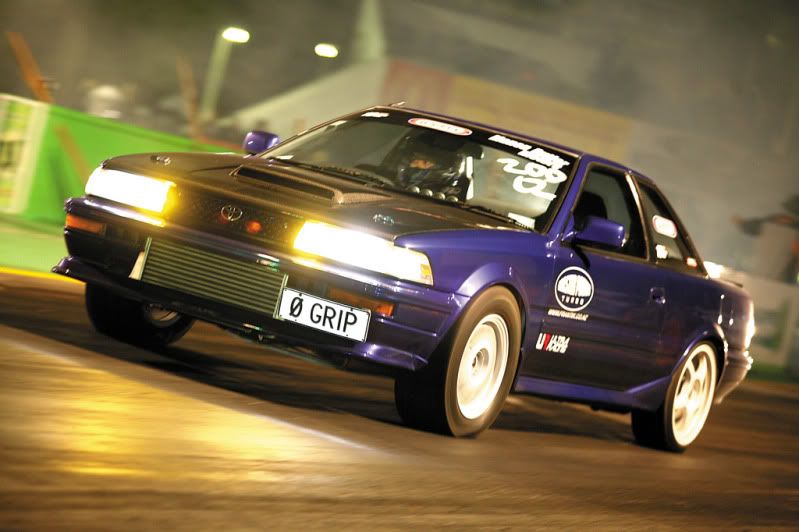 Circuit racing 2008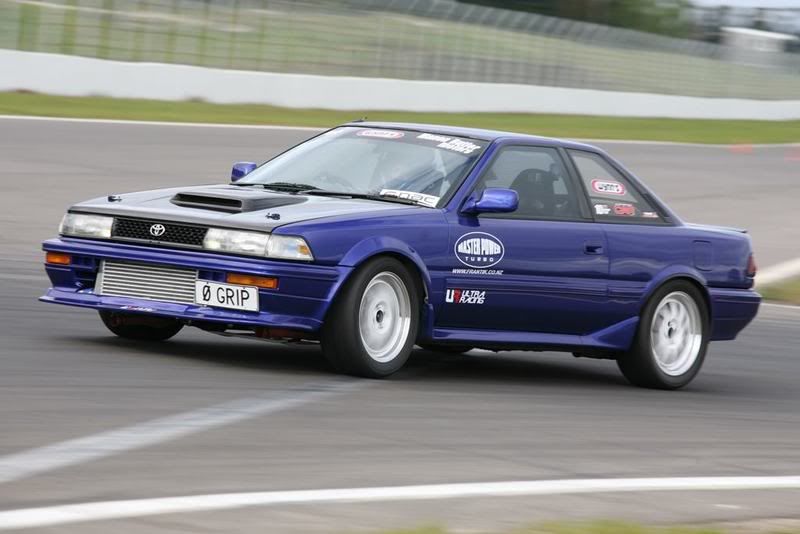 Wilwood 4 pot brake kit using Celica ST205 discs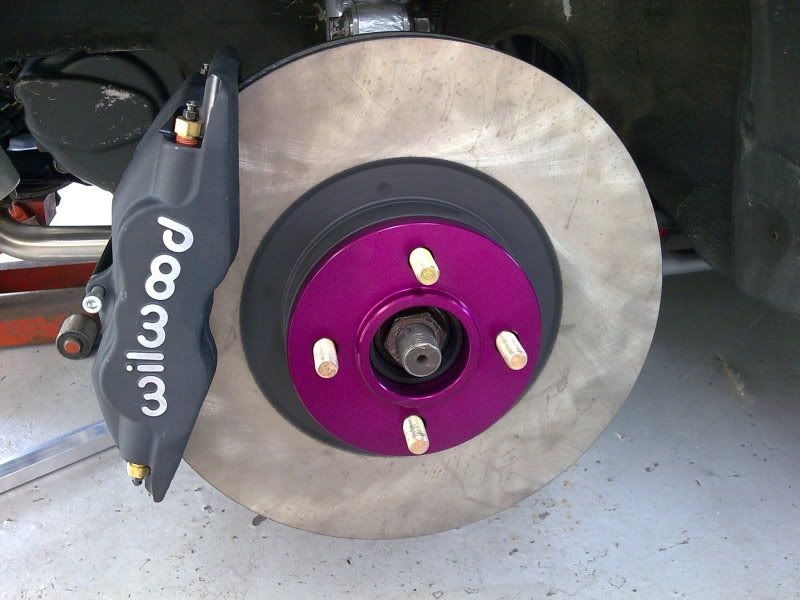 TRD Oil filter and wastegate pipes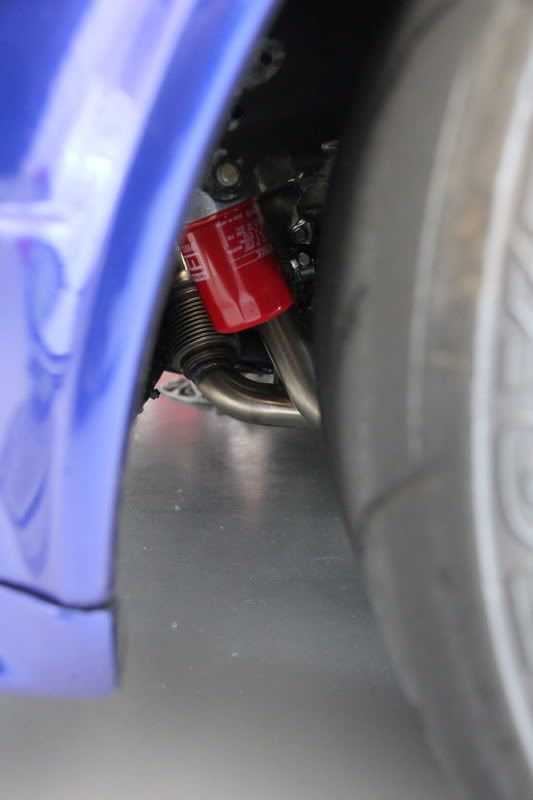 Front chromoly bar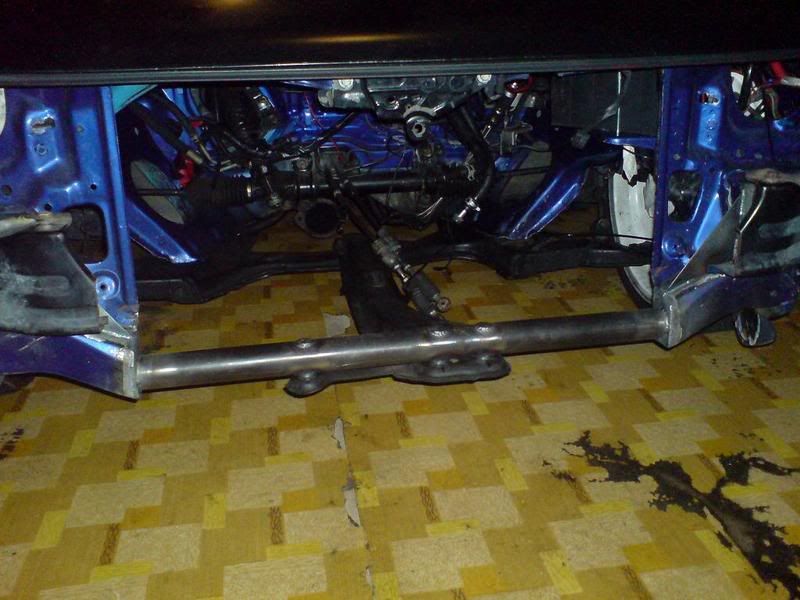 Top feed injector setup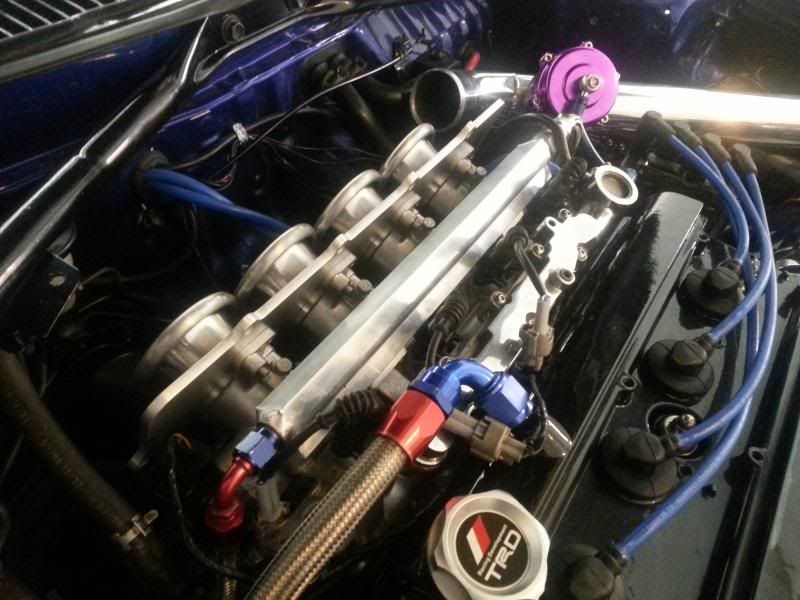 Fortune Auto 510 custom valved coilovers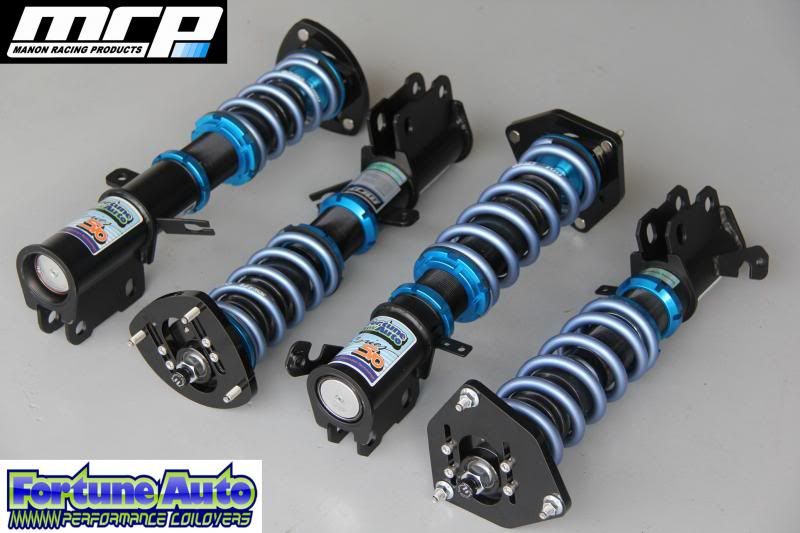 Turbonetics billet compressor wheel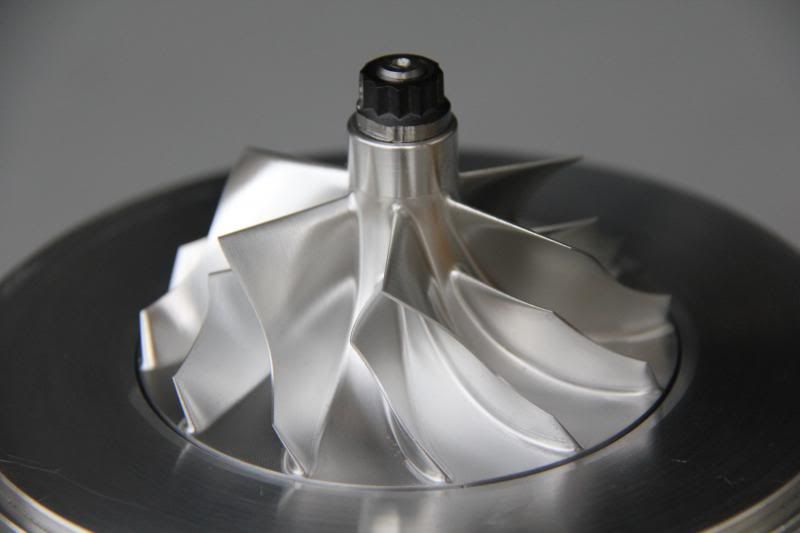 TRD LSD Rebuild kit
Pulled the car out after about a year of storage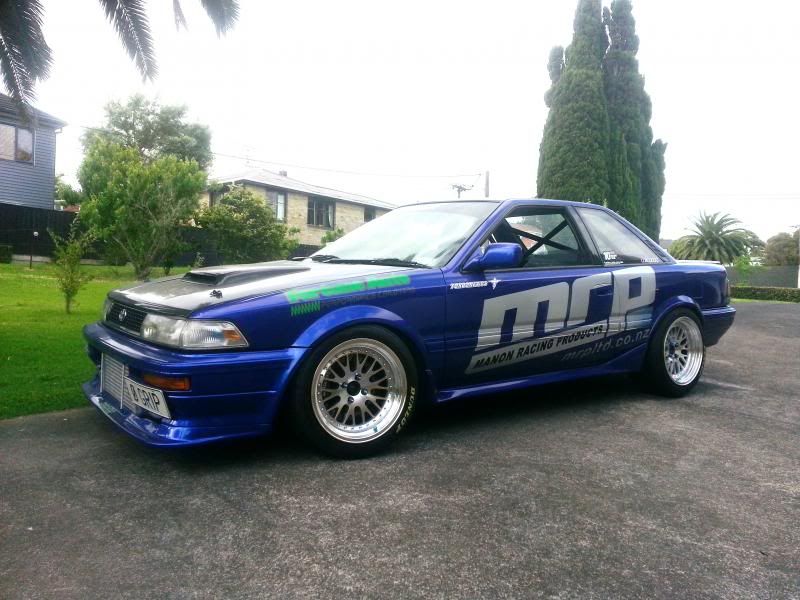 9agte build up - Tomei Poncams
Piecing it all up
Tilton twinplate clutch - Drives like a dream, very very smooth
Billet crank girdle to hold the 7a block together!
Assembly of pistons into the block
BHJ custom harmonic damper pulley & Custom Moroso baffled sump
Thermostatic oil filter adapter plate