CLIFFS NOTES:
HP: 150 RWHP
TQ: 163 RWTQ

Engine:
Stock Smallport 3 Rib Bluetop rebuilt 40k ago
.020 oversize pistons
New Main Bearings
New Rod Bearings
3 Angle Valve Job
Shaved Head
Decked Block
New Gaskets all around
T-VIS Fully Functional at 4700 RPM
EGR Emissions Deleted
Stock Ignition
TRD Plug Wires
New Timing Belt
5Zigen Catback
Homemade Adjustable Cam Gears

TurboSetup:
T25 SR20 Stock Turbo (Rebuilt by me)
Boosting 7lbs (wastegate)
CX Racing Log Manifold v.2
Custom 2.25 Downpipe (Exhaust Wrapped)
CX Racing Intercooler Kit
HKS Air Filter
Supra 440cc Injectors
Supra Injector Pigtails
Tercel/Paseo Brake Booster/Master (For Clearance)
Braided Turbo Feed Line
Restrictor Fitting for Turbo Feed
eBay bolt-on Oil Dump Tube for OilPan
10ft. or Coolant Hose to route Coolant Lines from IACV to Turbo
Stock Fuel Pump
Stock FPR
eBay Oil Catch Can w/ Filter

Electronics:
MegaSquirt PNP2 Standalone ECU Tuned By: CHURCH Automotive Testing
Glowshift Oil Temp Gauge
Glowshift Oil Pressure Gauge
Glowshift h20 Temp Gauge
ProSport Boost Gauge
INNOVATE MTX-L Wideband
Stock Tach, Speedo, and Fuel Gauges all Work
Wipers Functional

Suspension:
Megan Street Coilovers
AW11 Manual Rack
T3 Outer Tie Rods
T3 Beefy Knuckles
T3 NCRCA
JIC Magic Beefy Tension Rods
Goodridge SS Brake Lines
Brembo Drilled Rotors, TRD Pads (Not installed)
Axxis Rear pads, Stock Rotors
Whiteline Rear Panhard
TRD 2way Kouki LSD
15x8 Varrstoen V3 +0 offset
195/50/15 TOYO R1R
15x9 Varrstoen V3 -5 offset
205/50/15 TOYO R1R


Exterior:
Front and Rear Kouki Bumpers(OEM)
OEM Grille
TRUENO emblem
Zenki Lip (OEM)
Jblood Rear valences
Jblood Skirts
Sprinter Tails
TRD Hatch Wing (molded)
DMAX Roof Wing
Seibon Drop Vent CF Hood
Repainted Stock Blue Metallic (8D4)

Interior:
Gutted Rear
Gutted Hatch
Full Interior Front
Sparco Sprint JR Driver Seat
Fake BRIDE Passenger
Nardi Deep Corn 350mm Wheel
Autopower 4 Point Roll Bar welded to chassis
If youcare to read my build here it is:
Well my names Tony, im from the 805. Santa Paula to be exact. This thread is pretty much to keep track of how my cars changed over time. For the first few posts im going to just copy and paste my old posts from the old forum, Since I already had a small thread there. Ive been working on this since December of 09. Anybody has any comments or suggestions please post up. Id love to hear feedback.
Ok so I got my Corolla I believe it was on Dec 6th, 09. It's a 1986 Toyota Corolla GT-S Non-LSD.
I am the official 2rd owner. And 1st owner under 75 yrs old. Some old lady in Morro Bay owned this car, she ended up passing away and gave the car to her sister. Her sister is now in her early 90s i believe and she is the one who sold me the car. I got this car for 2500. 232k miles on the clock. Tranny was smooth, clutch and brakes both needed a bleed. And the engine needed a small tune up.
Heres some pics of Day 1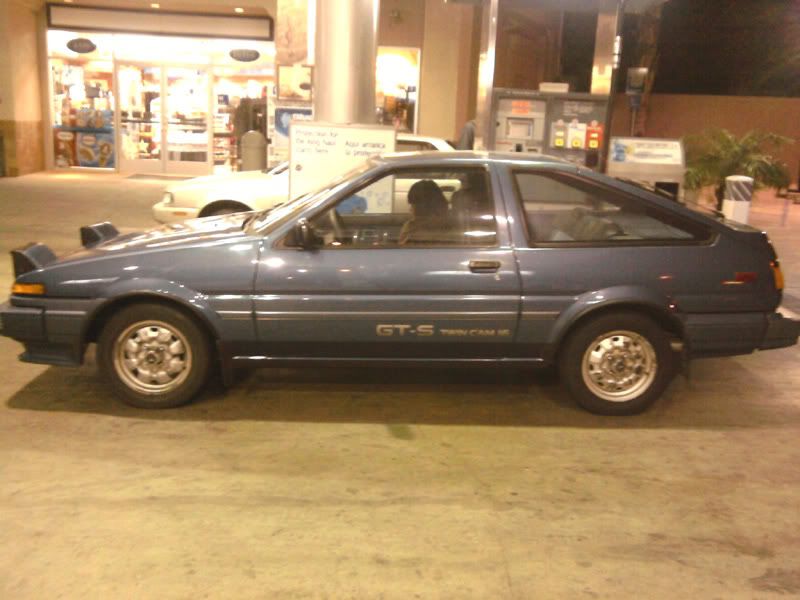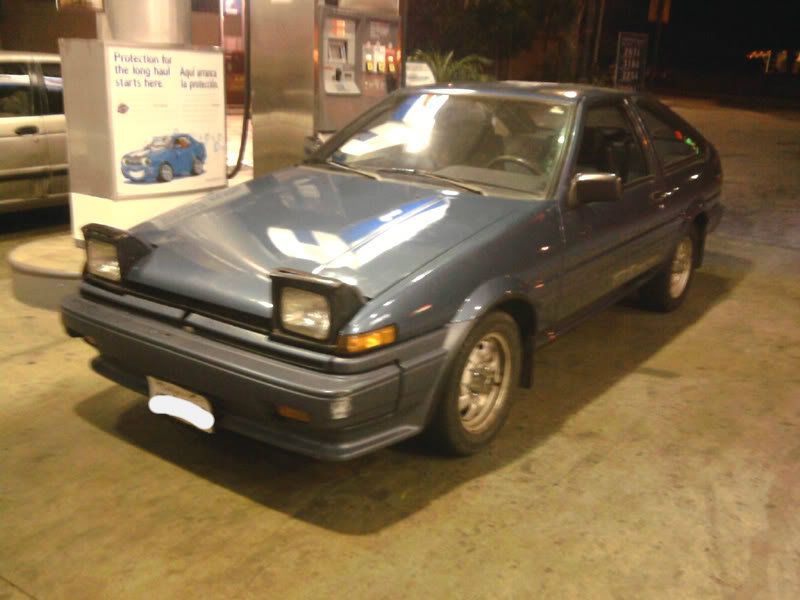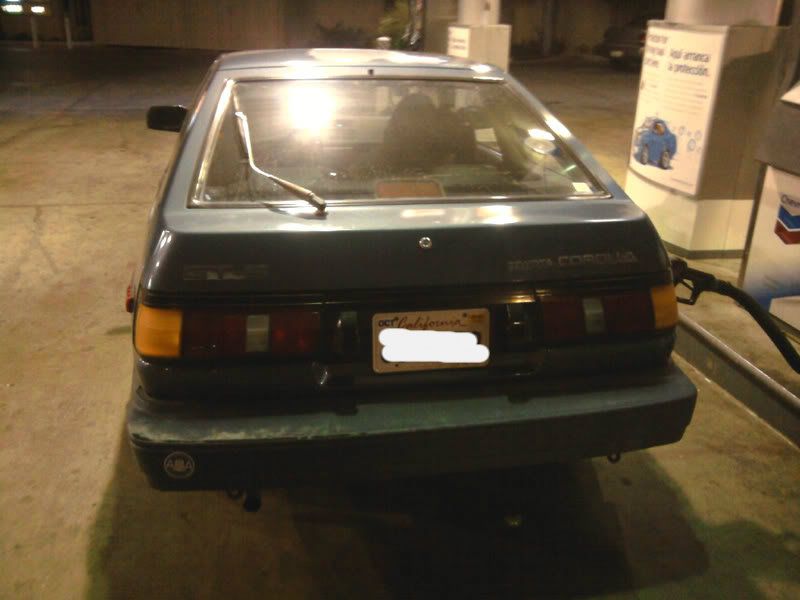 6 days later SoCal got a HUGE storm and I slid into a newer Corolla and got tboned in the middle of a canyon. You guys probly know the story there was a thread on it....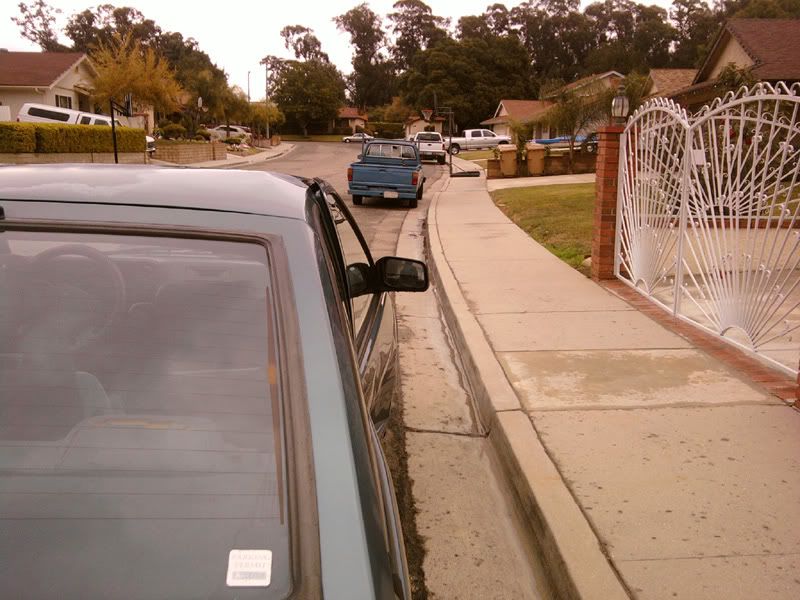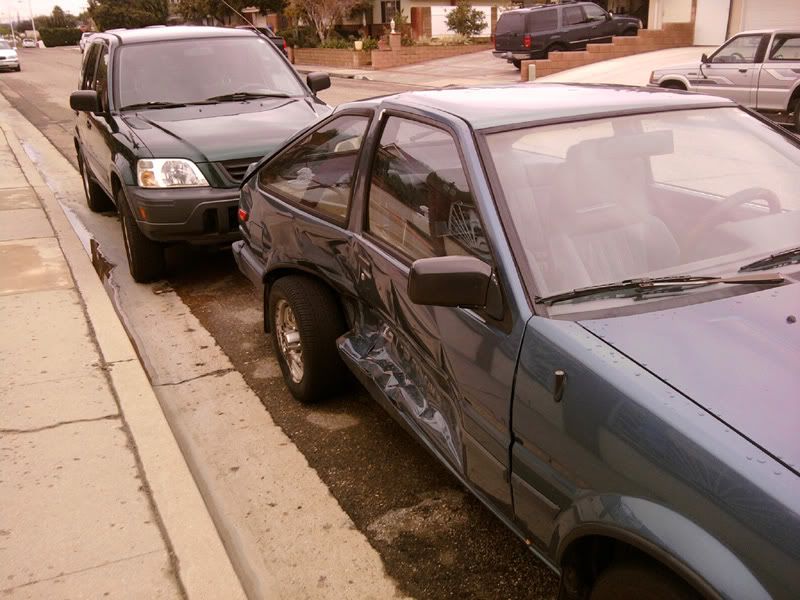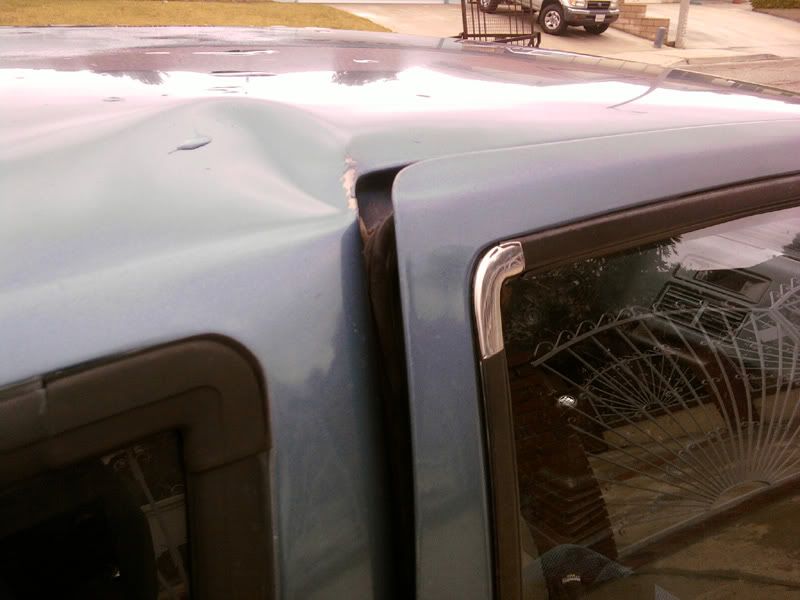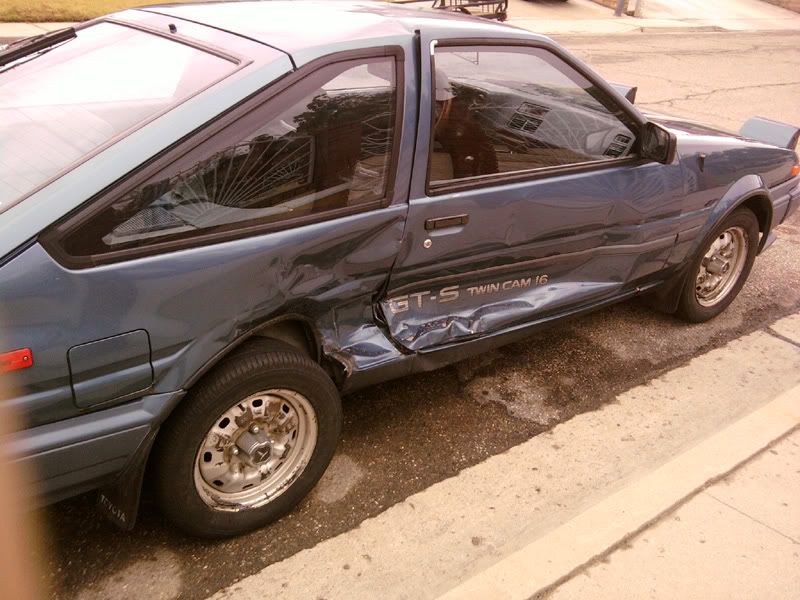 I had a "hookup" job done by a coworker of my buddies who works at the Chevy dealership in the Bodyshop department for insurance claims. So he's dealt with totalled cars before and I had full confidence in him...
This is pretty much the end result...
I received the car and it was making squeaky noises..and had a rotten carpet smell. Found out the rocker had missing welds and was leaking
So I called the guy out on his Shabby welds and he told me to **** off... I get what I payed for I guess. Had to go elsewhere to get it done right.
AE92 skirts/Celica Supras? Possibly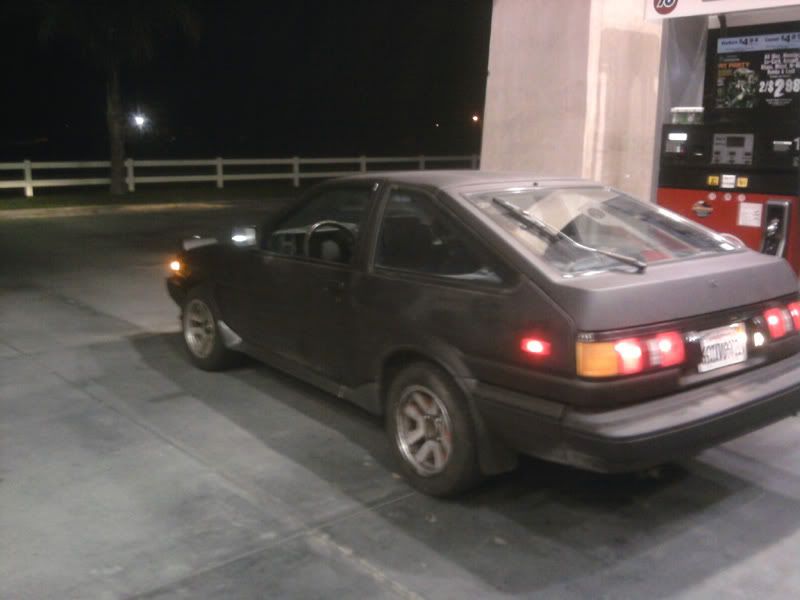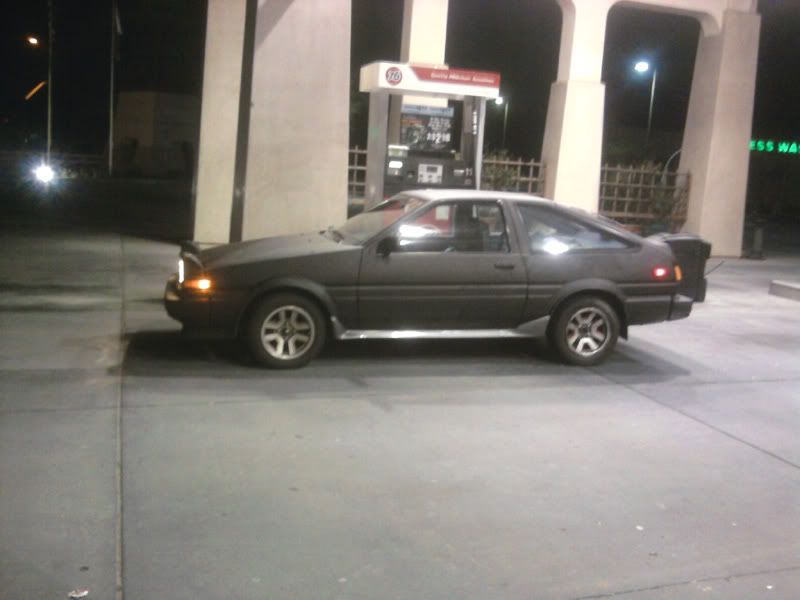 Plans for the near future after my tax return..
Coilovers
LSD
JBLOOD replica Front Bumper
Gloss Green or Lime Green Paintjob
We started Wetsanding the car today. After putting Megan Coils.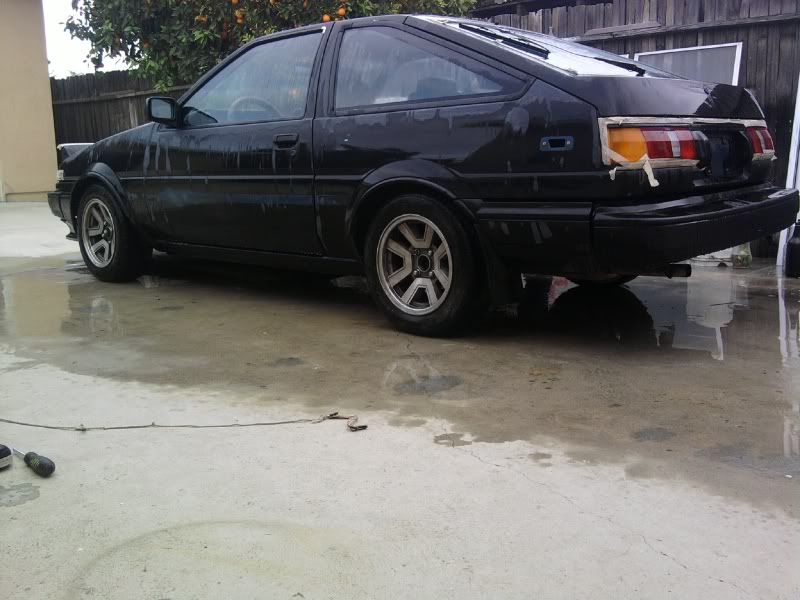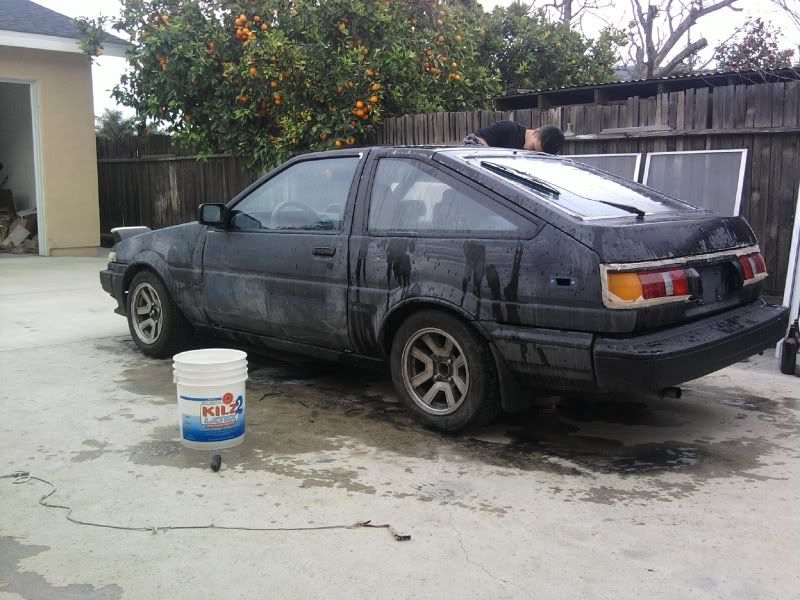 Paint..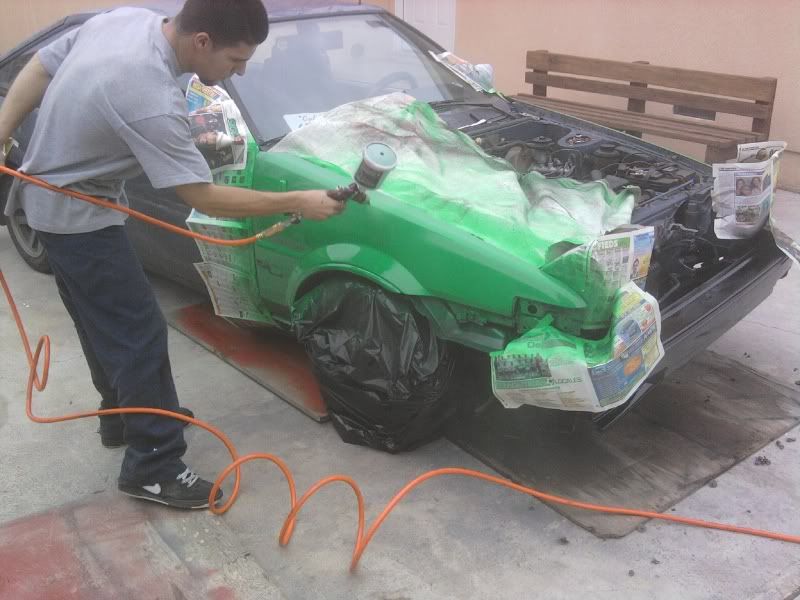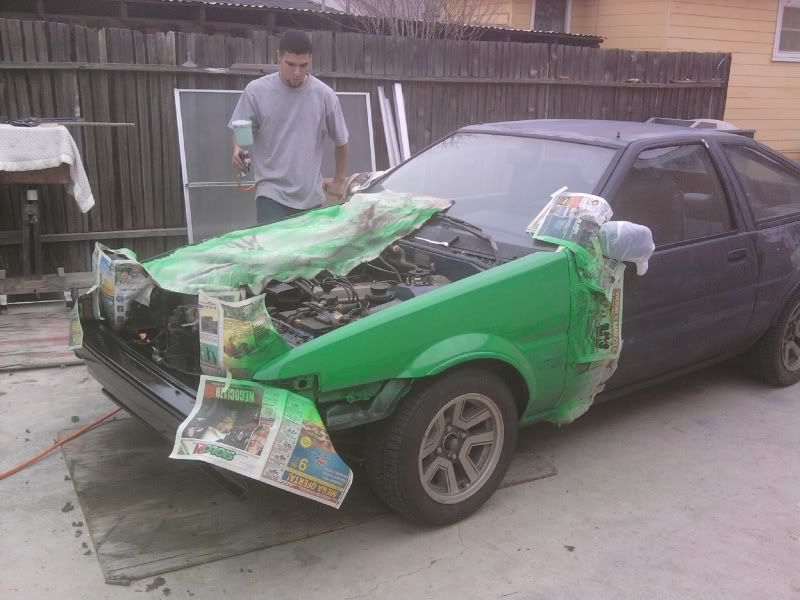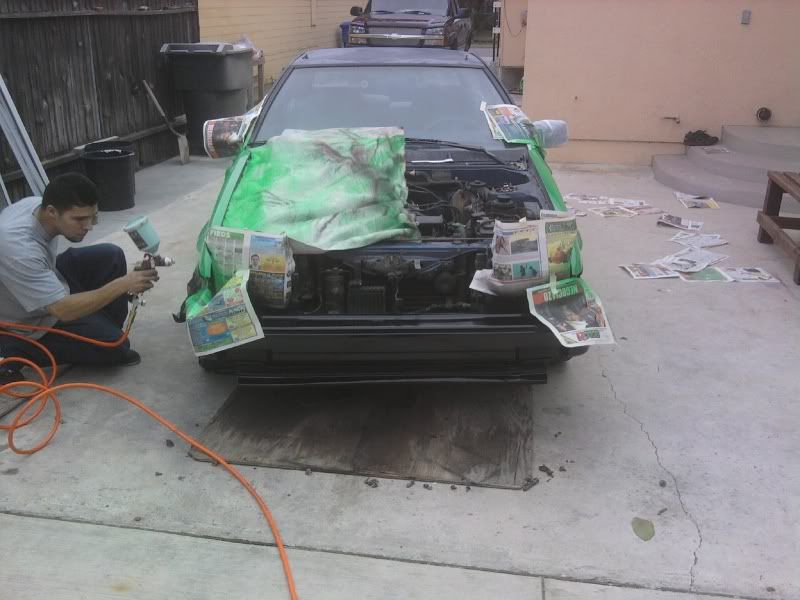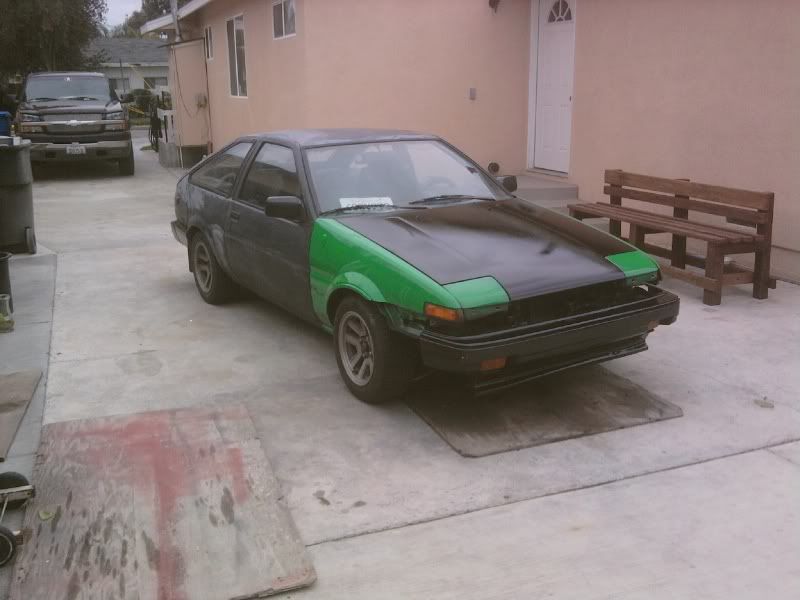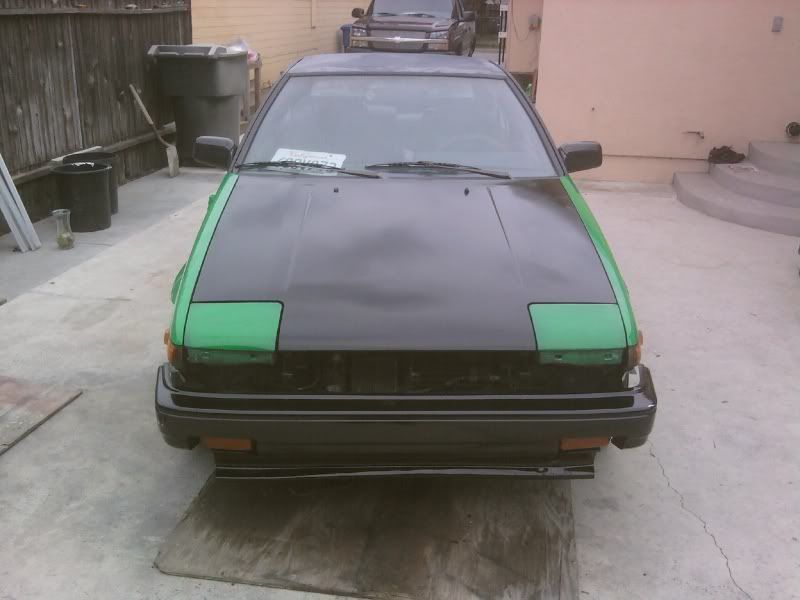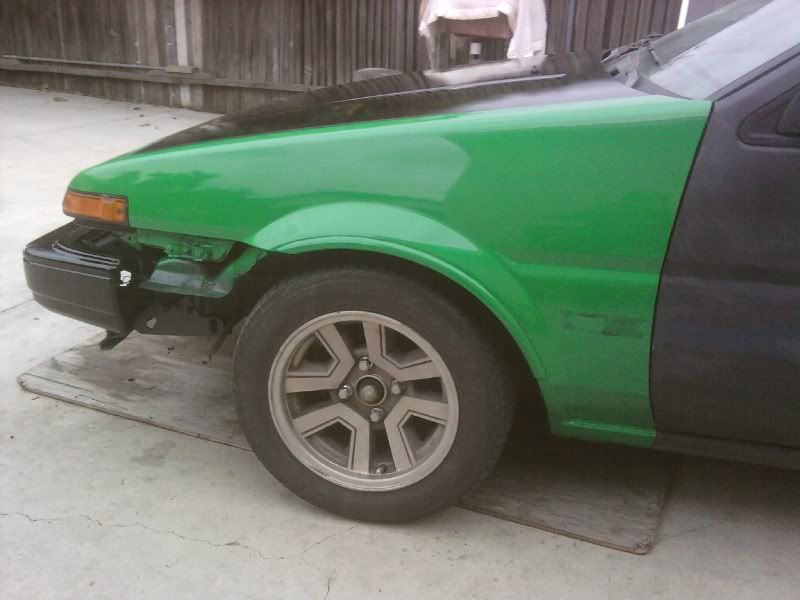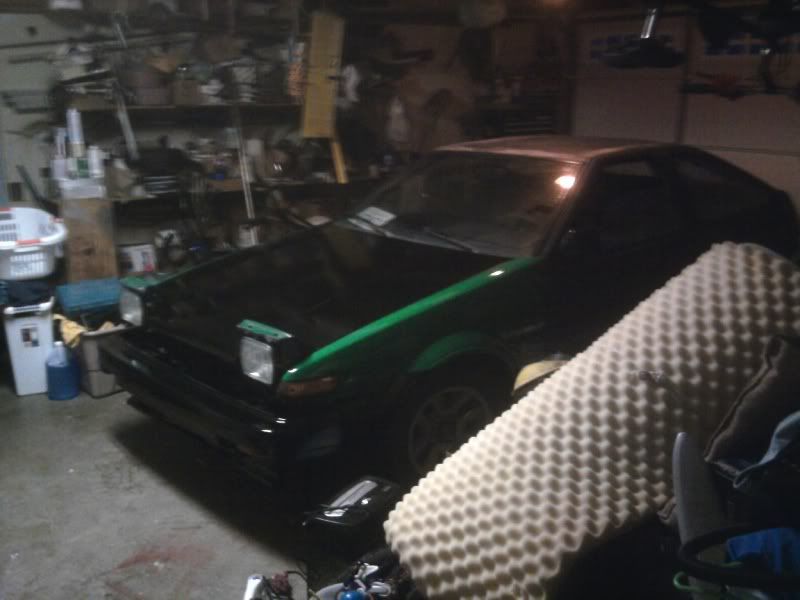 Done...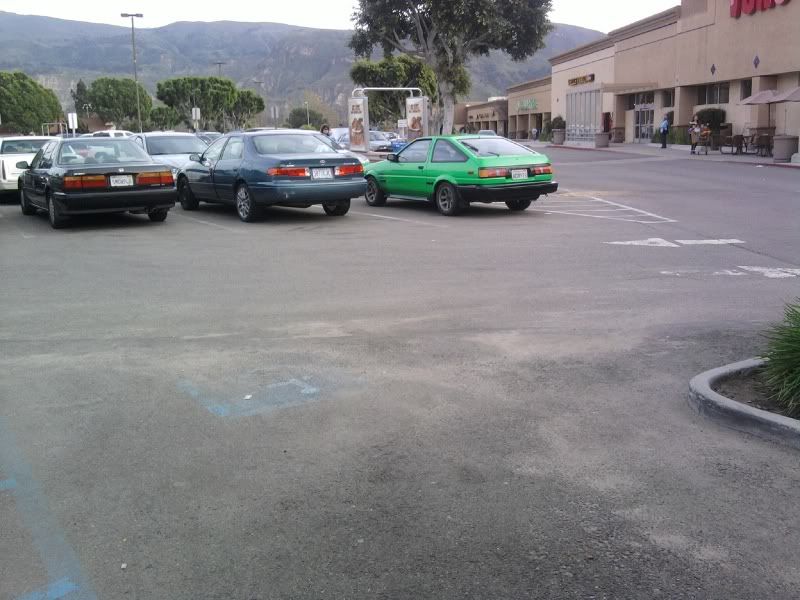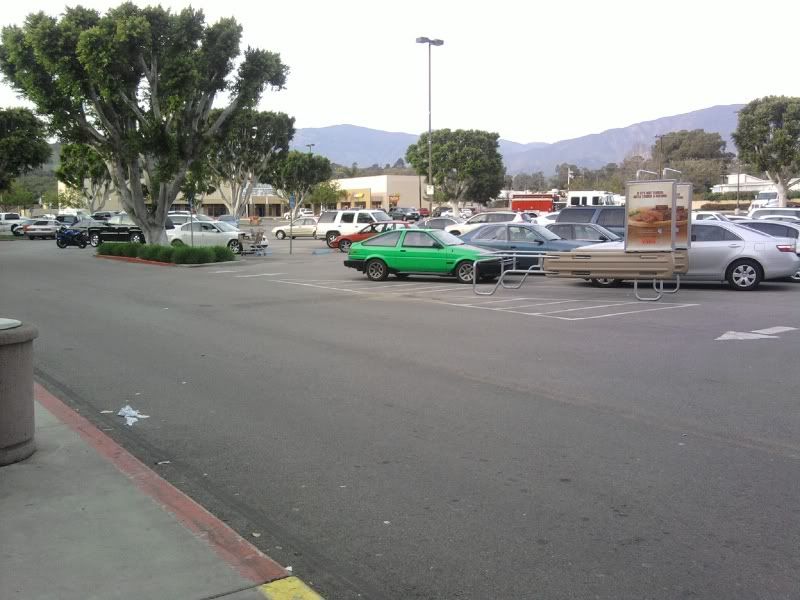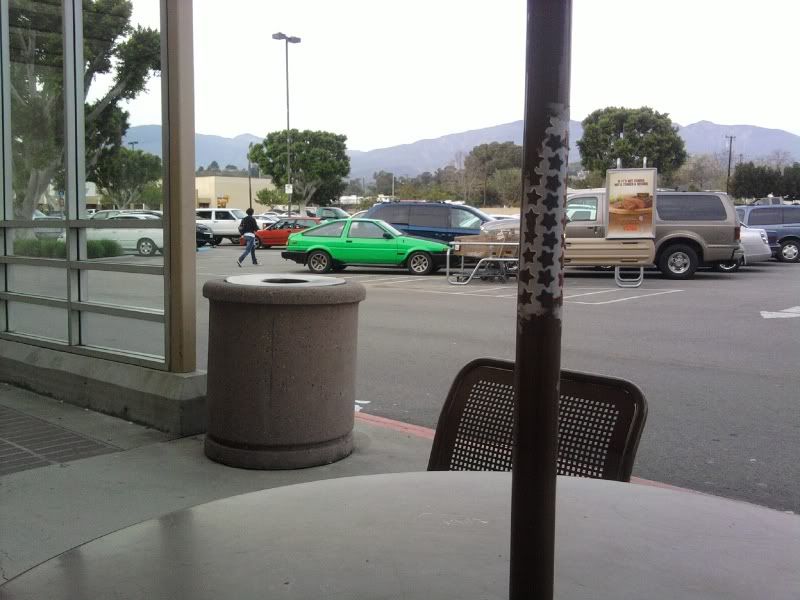 And i finally got an OEM LSD.. waiting for the rebuild kit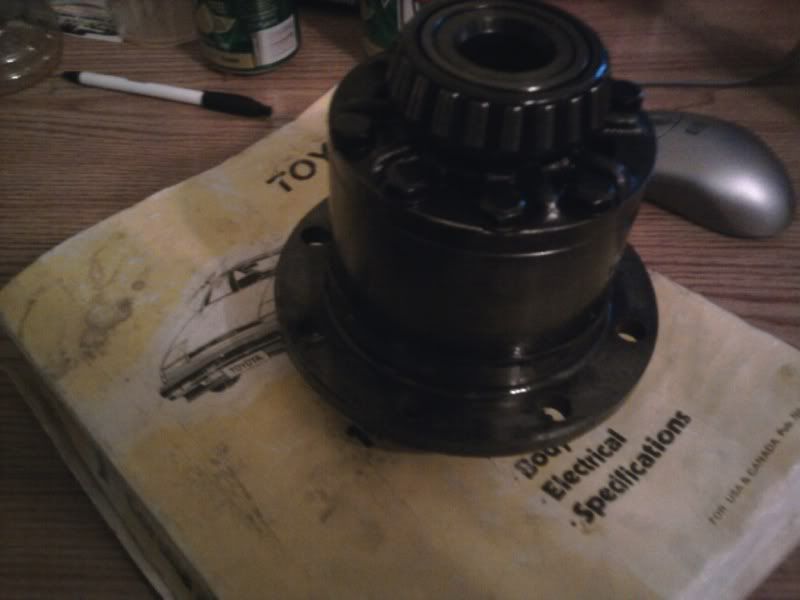 3/18/10
Bought some Enkei 92's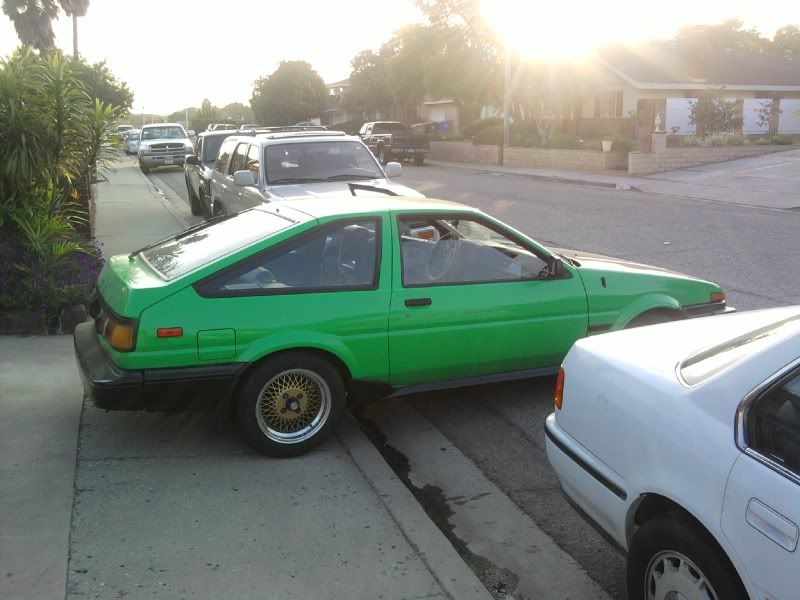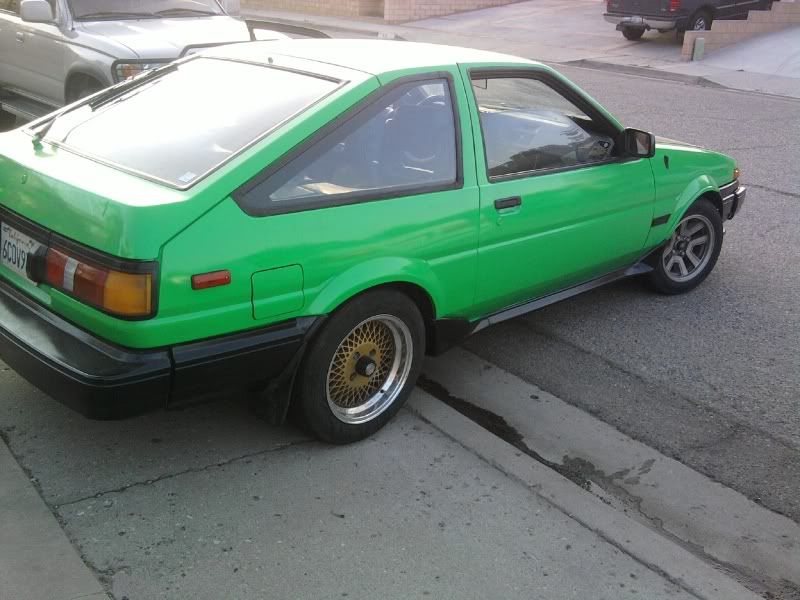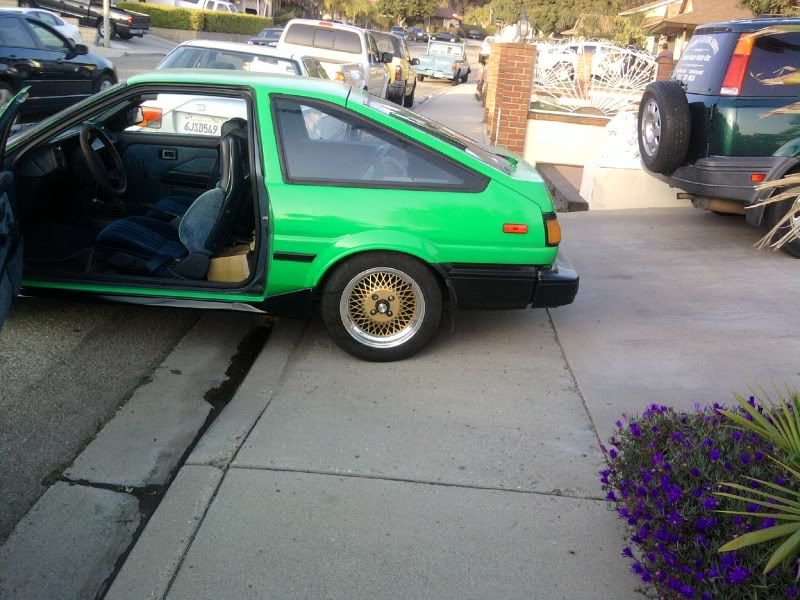 Didnt like the fogs so they came off..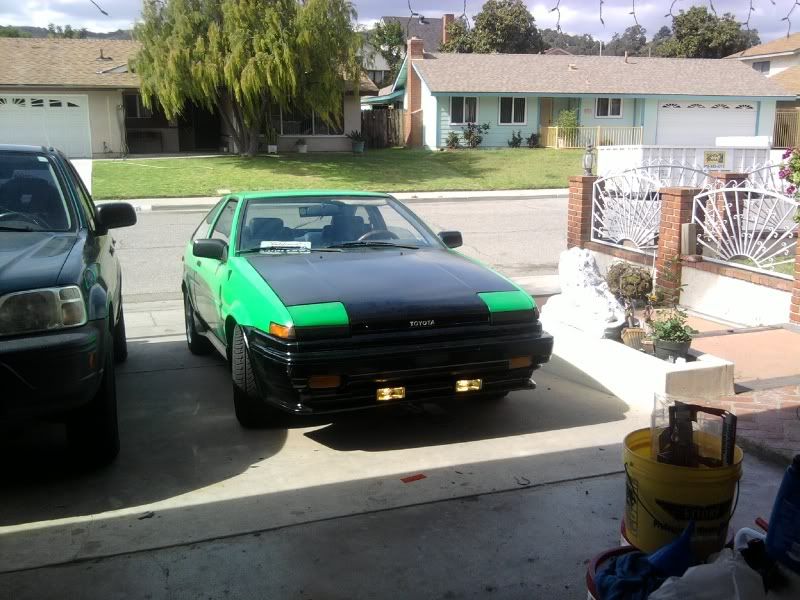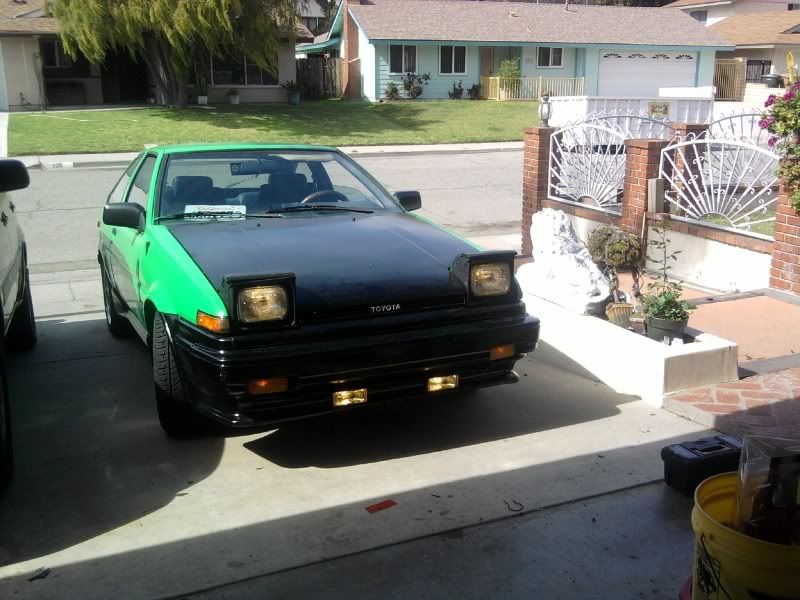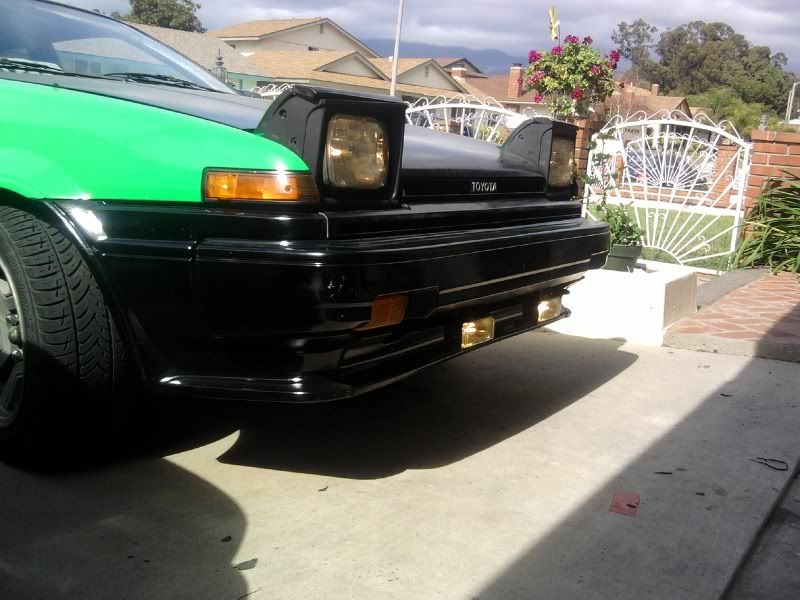 5/17/10
TRD WING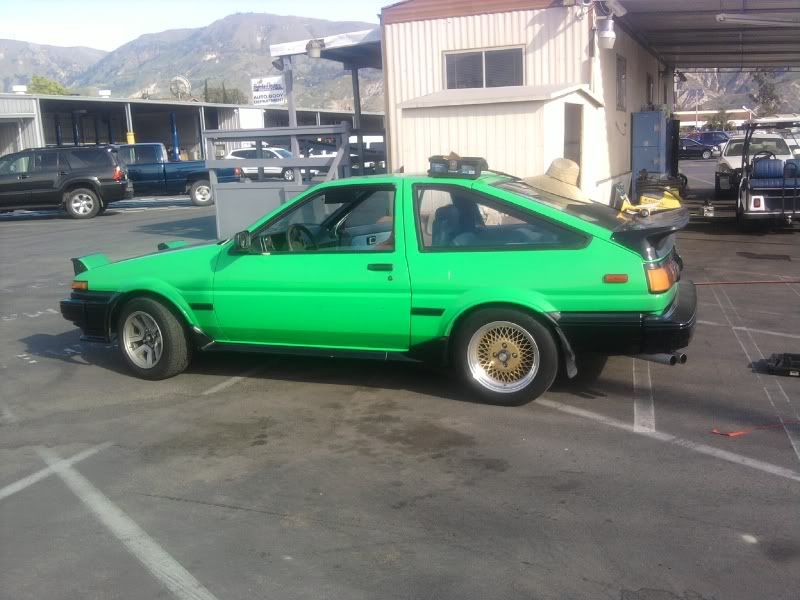 Whiteline Panhard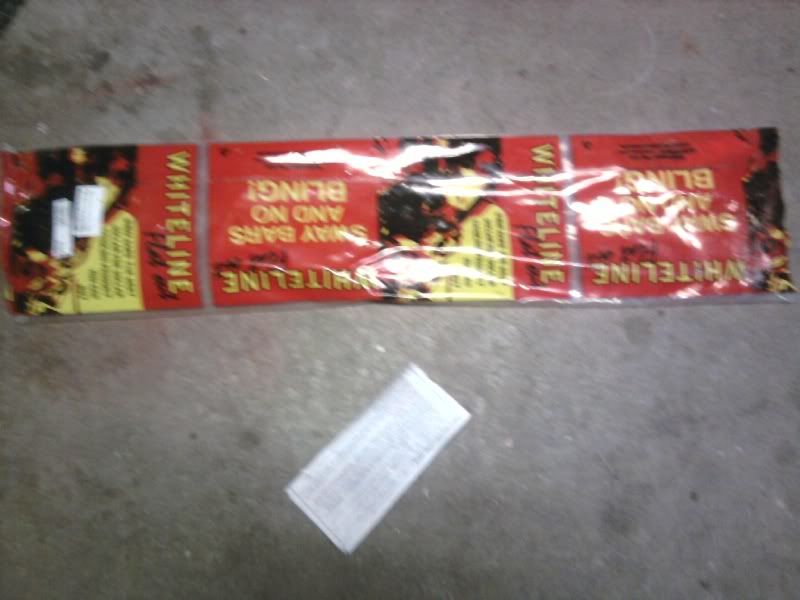 Tires: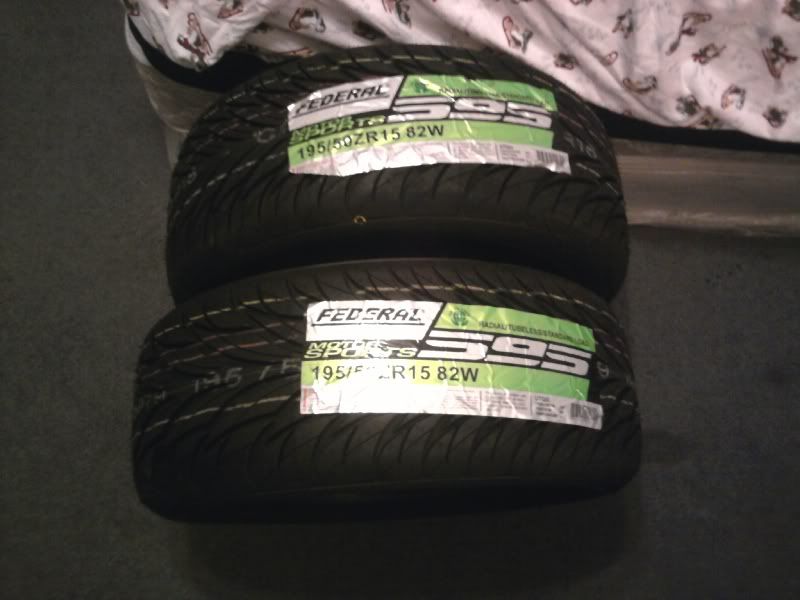 6/29/10
Since I had a nice fat deposit down for a spare engine. The guy agreed to let me pick at it for a couple parts. So I nabbed theTRD headers and the new cat off of him. Thank you superdougy.