So this is more a rant/philosophical debate I had in my head tonight.
I like to play this weird game where I create formulas to calculate a kind of, well, "fun factor", I guess power to weight ratio. I divide ft lbs of torque at a certain RPM (or adjust variables), with respect to curb weight.
I was doing this with AE100s and Whatever the hell the chassis code is for 97-01 ES300s. Somehow I started looking up NHTS crash test ratings on those same chassis, and started going down that rabbit hole.
Then I researched just what the hell J.D. Power Associate's awards actually were, and...
Then, I jumped randomly into researching reliability of a passenger car with respect to ownership (of specifically Korean/Japanese descent as they are the top contenders cheap reliable cars, with ford always around..), and the COST of long-term car ownership. I wasn't surprised, and yet I was. I knew from mechanics that while both Kia and Hyundai, on the surface, are the top contenders for "best bang for buck", they end up being some of the most expensive in the long run.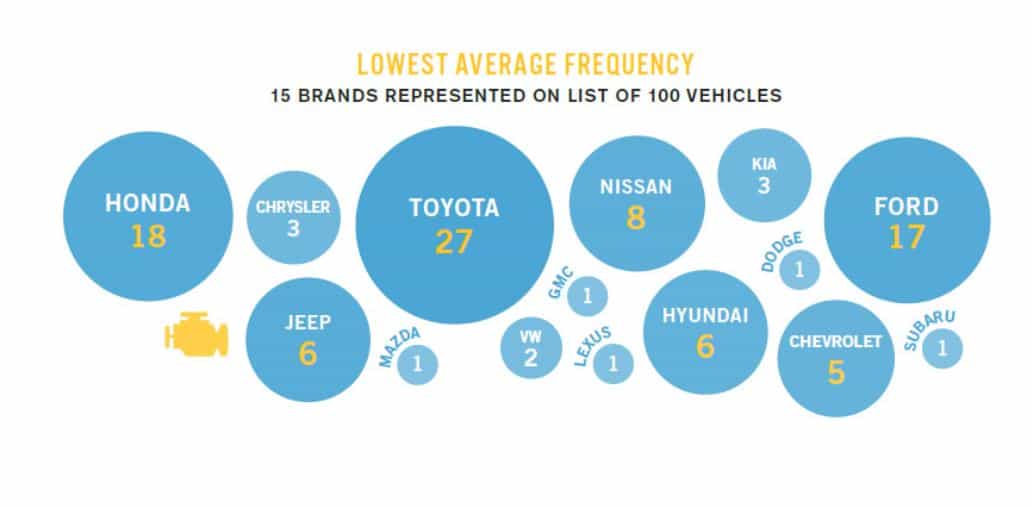 Here are some fun links:
http://www.autoconnectedcar.com/2017/06 ... est-deals/
http://www.autoconnectedcar.com/2017/12 ... da-kia-vw/
https://www.yourmechanic.com/article/th ... ddy-martin
Granted, these results are only from OBD2 (or is it 3 now?) scan tools, but it's a good large number sampling, and I think the best true and unbiased data.
What's interesting, is while the KDM is obviously light-years ahead of where they were in the 90's/early 2000's, people fail to realize they get very expensive to maintain. Costs of individual repairs might not cost more in the short term, but end up costing more with respect to the FREQUENCY of repairs.
The Kia Soul, still did very well. You have to admit, to beat the most cost-efficient vehicle (in terms of maintenance costs), the Prius, you REALLY have to get your **** together in terms of Quality Assurance and management.
However, and this is my underpinning argument, the culture of Korean manufacturing still refuses to focus on quality over quantity. I mean, if two (basically one) KDM companies can outsell the long-established JDM "top five", in a way in which the normal budget-minded American shopper would have no major problem with, why should they care?
I won't get into Edward Demming, or any of that fun stuff, but Korea is not the same as Japan. Many of you, like me, have seen the country first hand and how important it is to meet strict requirements in a multitude of norms.
Because, getting back to the data, the cost of owning either a Hyundai or Kia start to grow exponentially after about 140-160k miles. Repairs become VERY costly, and it seems that the cost of having a cheaper repair cost initially, really backfires in later years of ownership.
But, then, I remembered peaking at a 2015/16 Camry as I was bored out of my mind with Grandma at the car dealership. They had a very interesting sticker (which I loved seeing), showing the break down of WHERE the parts came from, WHO assembled them, and the total make-up after percentages. I won't go down this rabbit hole, but it's a very interesting sticker you'll see a lot these days due to new statutes NHTS has enforced.
Example of "Parts Content Sticker"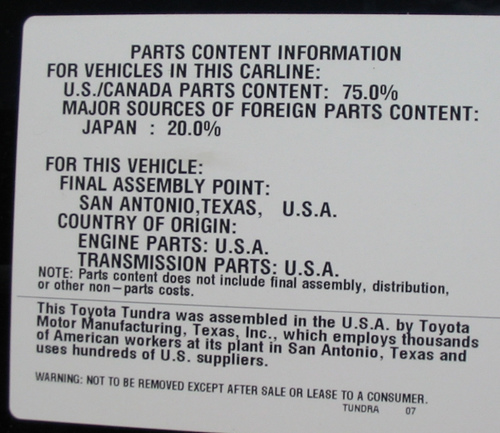 I can't remember exactly, but It was something like most parts sourced for things like engines/transmissions were Japan-sourced, while things like body parts were domestically sourced. The biggest take-away, at least to me, was how many were actually assembled in the U.S.
So it really becomes interesting that not only can Japanese automakers take a 1986 MR-2, put it on a rickety boat with tie-down straps, sail it through the Sea of Japan, and the Pacific, and outsell domestic car-makers on a laughable level, THEN, 30 years later, take a Prius, build it in America, and do the same thing all over again, all the while maintaining the top-standing cost and reliability rating.
The problem is, I can't decide whether we as Americans (as a whole, not just Japanese niche chassis enthusiasts), and the everyday shopper, actually care if a car goes to 150k? And even then, most of them probably don't focus on long-term cost and reliability. If it's got good ratings, low-initial sticker price, low initial repair cost, then does it matter if it gets expensive?
I ask this because I have two siblings that will be ready to drive soon. Even though I think a bulletproof 90's civic/Toyota is the best you can do, these cars are just too old for non Japanese-niche auto enthusiasts. As it stands, I think I would recommend a 2017/2018 Civic, as it's the best in it's class. I think Toyota's econoboxes are just too fat, slow, and un-attractive (which is amazing because I think the 3rd gen Lexus IS/NX/RX etc. line-up is some of the sexiest styling I've seen in a while, and I also admit that the 2018 Corolla looks very nice with a low curb weight, even if it's under-powered). I've realized I'm not a Honda guy, but damn, I think those new hatches look so nice.. and have great reviews from picky auto-enthusiasts and reviewers. And, I just feel sort of proud of Honda for making the Type R. I make fun of it because it's a 3,500 lb FWD civic, but they are really trying to keep the driving spirit alive.
What do you guys think?