No I didn't get into a car accident where my 86 would have saved me from certain death. No, I was not placed in a situation where my finely tuned, 80s sporty econobox allowed me to out-maneuver a sudden obstruction in traffic caused by a natural disaster and terrible drivers. Hell, my 86 doesn't even run all that well. I've put maybe 1000 miles on it in the 3 years I've owned it.
My corolla saved my life in an entirely different way. I have only shared this story once before on a public forum, and I have decided to share my story with you as well.
I bought my POS 1986 Corolla SR5 from some guy named Bert in the middle of nowhere, somewhere north of Kanab, UT. I passed by the car as I would roadtrip from Ogden (where I go to school) to Phoenix (where I'm from, and where my family resides). After driving past it about 10 times in 3 years, and never seeing it move, I decided to ask them if they wanted to sell it. I always wanted a drift car, and this could very well be my opportunity.
I stopped by the house, walked around the car (parked next to the house in a grassy sideyard), and took a few pictures. Grass had started to grow up and around it, weaving through the door jams, coming out the grill, and working it's way in and out of this old heap.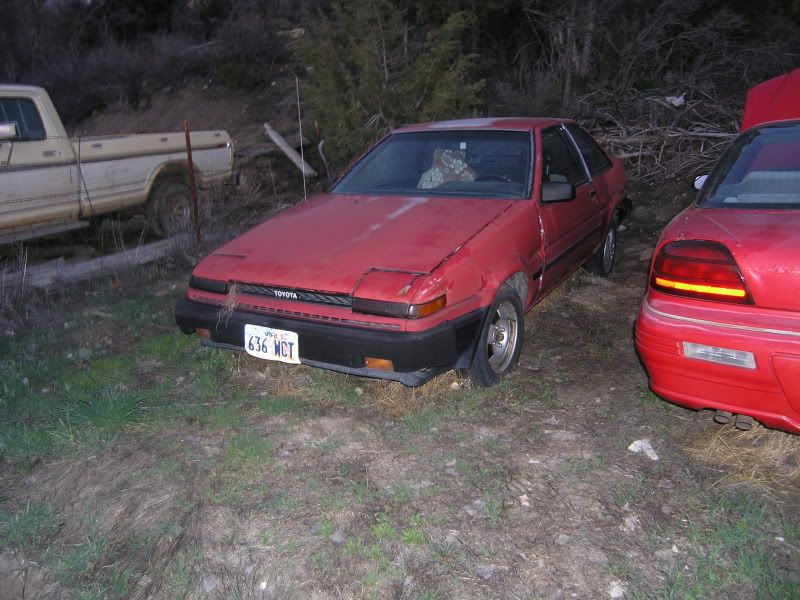 It had this awful Hawaiian seat cover on the passenger seat, and the driver's seat cover was torn to shreds. The car had been neglected for a few years, and abused for a few years before that.
When I knocked on the door, nobody was home. So, I returned to my car and wrote a note simply saying, "I'd like to buy your old red corolla, if you'd like to sell it. My phone number is XXX-XXX-XXXX. Give me a call. Thanks, -Devin". A few weeks went by and I had honestly forgotten about it. When Bert called me, he told me the car didn't run, and that if I came with a truck and trailer he'd sell it for $300. My friend and I returned a few weeks later (around 600 miles round trip) and hauled it off his property, and brought it down to my parents' house, where I could work on it for the summer.
Everything was covered in dust.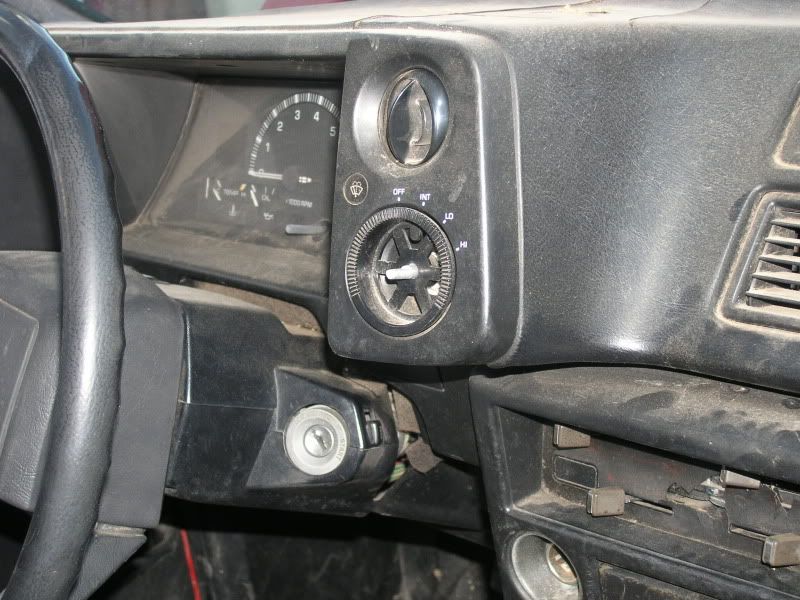 There was dead grass everywhere.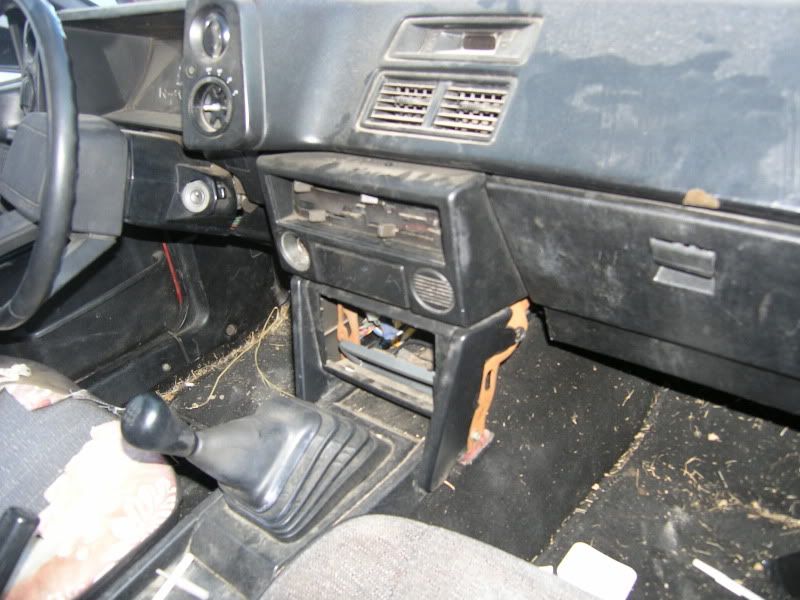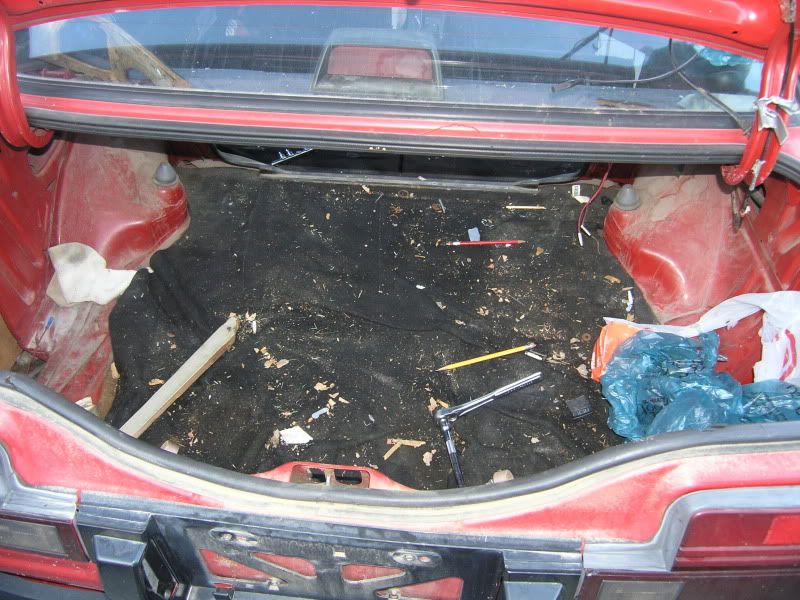 The interior was in just as rough of shape as the exterior.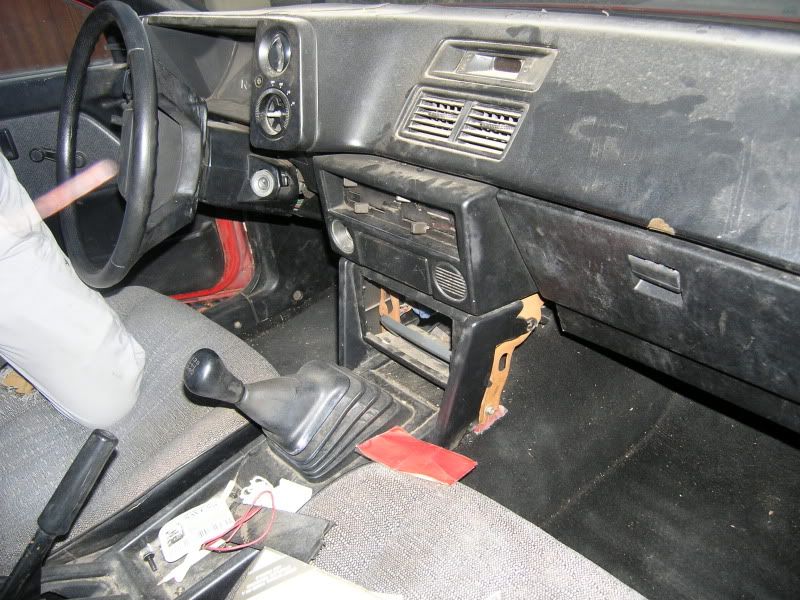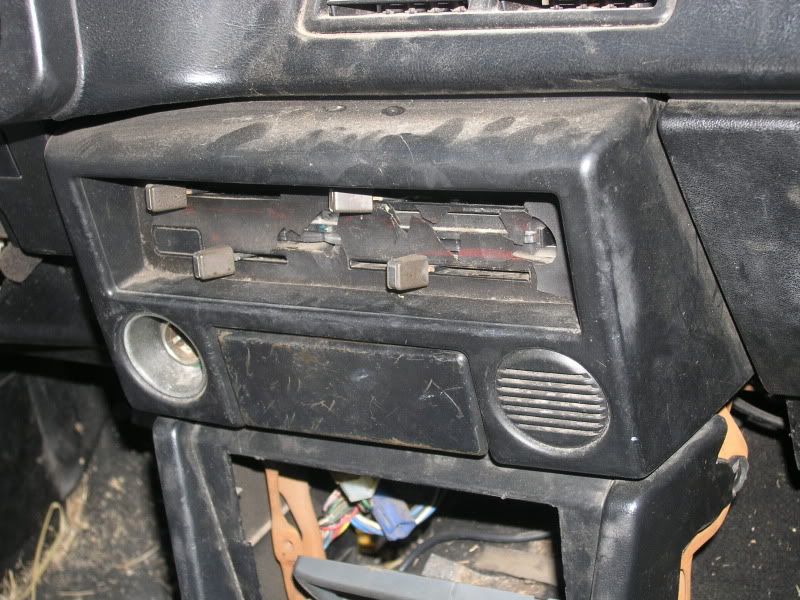 There were switches and buttons that I had no idea what they did.
And it seemed that the rear seat had been destroyed by some sort of toxic waste, and a pillow was sewn in place.
But I loved this stupid pile of crap.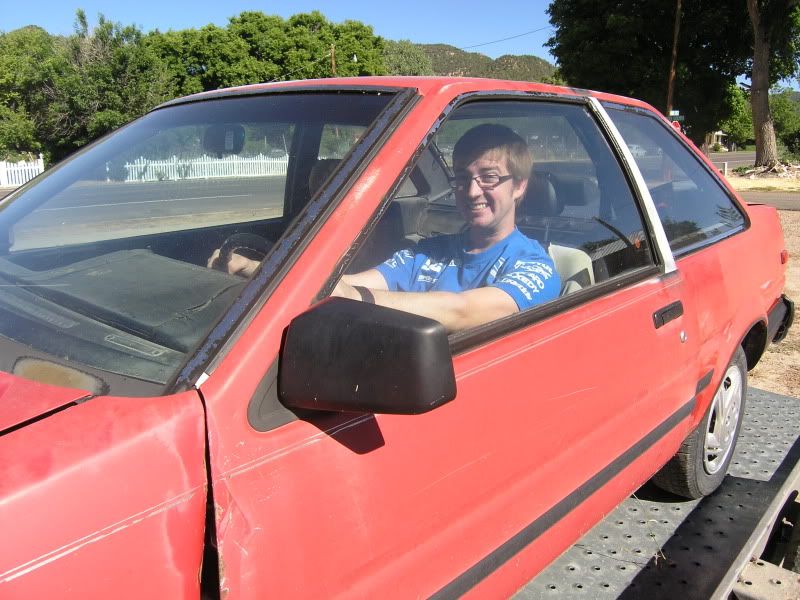 I got together a few of my friends from AZ Toyota, and we had a BBQ tech day to get this thing up and running.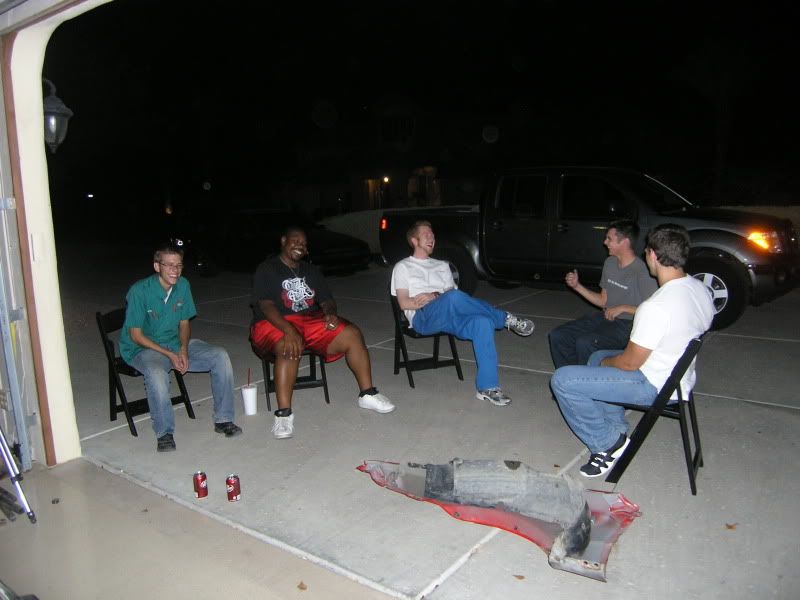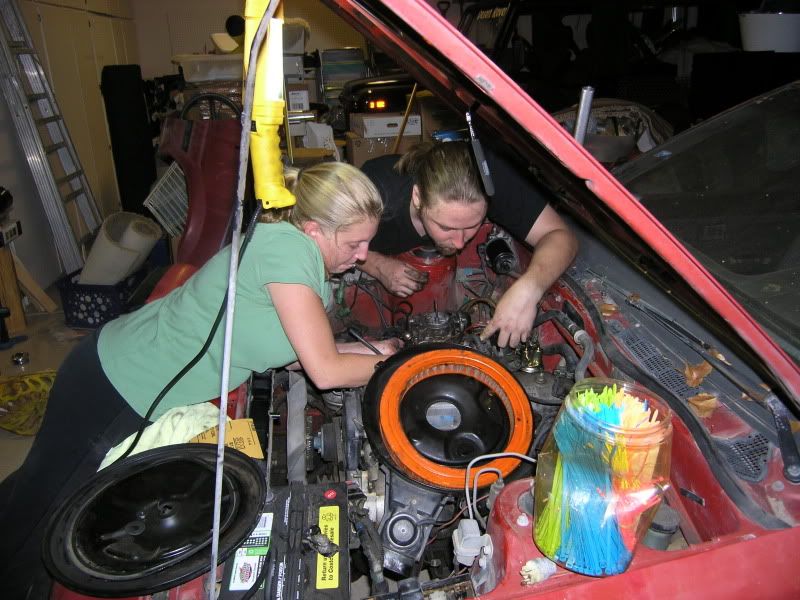 My girlfriend was a huge help as well. She thought the car was ugly, but she does auto body repair, and told me she was going to help me get this thing looking a little better. She helped me clean out all of the crap inside of the car, and motivated me to get this thing running so I could have a drift car. After getting her up and running and putting on some new tires, I loaded up the spare parts in the trunk and started the journey from Phoenix to Ogden in my hoopty coupe. I got pulled over once outside of Flagstaff, the police officer was worried that my car shouldn't be on the road. loooooooool. Silly police officer, this thing has 1.6L of pure carbureted fury!
The exhaust had a ton of leaks, and the car was missing a few plastic plugs in the floor. A drive that normally took me 10-12 hours took me close to 15. I really don't remember a whole lot from the last 3 hours of the drive. I remember road signs of a few cities that I passed threw, then all of a sudden I was in the parking lot of my apartment complex, then I woke up in my bed.
After that drive, she didn't like to run too well. I found a clogged fuel filter inside the carburetor. Then about a week later, she developed rod knock. My dreams of dumping oodles of money into a quad-carb setup and a high performance cam in that stupid 4AC were demolished. And so, the car sat. Got impounded because my complex thought it was an abandoned vehicle. Towed it back to the complex. Towed it to a friends house. Then another friends house. It got passed around to a few places. It sat, non-running with a blown up engine for about a year. This is when my corolla started to save my life. Spring of 2011.
My girlfriend and I had been dating for almost four years. While attending college I worked a few part time jobs to pay the bills, and save money to buy a ring and start a life with a special someone. Once I had almost all of the money set aside, my life changed. My girlfriend, and almost fiance, left me. She wanted to still be friends apparently, but that didn't work. Rumors started circulating, you know, the whole 9-yards. Without going into much further detail about my personal life, I just wanted to note that I have pretty much struggled with mild depression and anxiety for as long as I can remember. This turned "mild" depression into "I'm going to kill you and your dog; then raise you from the dead, so I can kill you again; oh and I video-taped it so you can watch it later" depression.
Most people would try to kill their depression by drowning it in alcohol, or rid themselves of the depression infection with a concoction of sleep-aids and anti-depressants. I did neither. I was working two jobs at this point. A full time job at an auto parts store, and delivering pizzas 4-5 nights a week. I was working up to 18 hours some days, just to keep me distracted from the negativity and to make myself so physically, mentally, and emotionally exhausted so that I could sleep at night. After a few weeks of this, I decided that the money that was sitting in my bank account should be spent. It was time for some retail therapy. I didn't buy shoes, clothes, or any of the normal things people buy. I bought car parts.
helloooo retail therapy.
The first step in my retail therapy, and depression therapy was spending hours pouring over the FSM and tearing down, and rebuilding this junkyard GTS swap.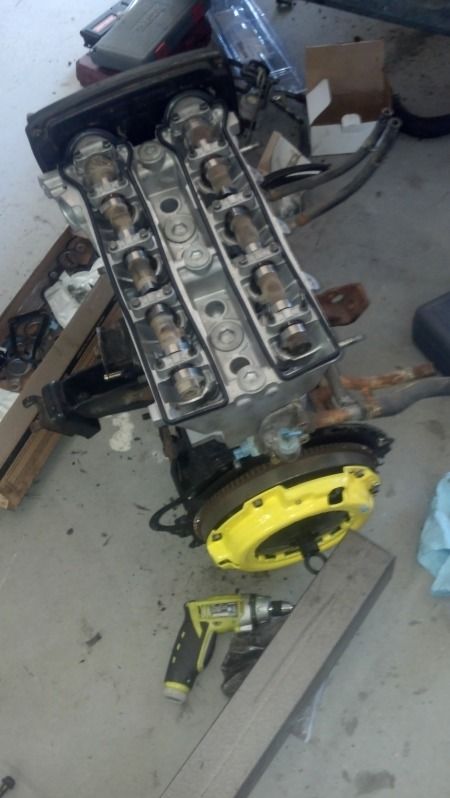 I got the engine sitting in the car, awaiting manifolds and wiring.
In between work, I was wrenching on this car. I don't know what it is about fixing things, but it helps me to put my mind at ease. I can work things out that are bothering me whilst working on a car. I had a lot of things to work out, which was good, because I had a lot of things that this car needed.
After about 6 months or so, I got the car back on the road.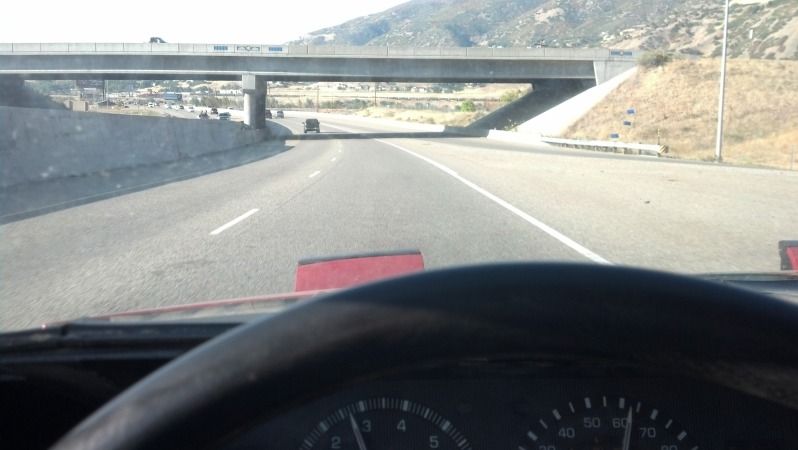 It was driving, but it was far from being done. The GTS swap may have been running, but it wasn't running 100%, my headlights didn't like to work, etc. After about 6 more months, all the bugs were worked out. I spent countless hours tracing wiring, turning pages in the FSM, researching, and scowering ebay and junkyards for parts. I spent all of my "wedding money" on my corolla.
This car got me through a very rough time in my life. I hated myself. But this corolla needed love, so I could not justify giving myself the time to stew on my self-loathing. Through loving this car, my depression and anxiety were made bearable, and I worked out quite a bit of my self-loathing. When I didn't want to be around people, when I didn't want to
feel
, I didn't have to hide from people. I could go to my corolla, the one thing that didn't question me, didn't ask how I was doing, didn't try to make me feel better by smothering me. She was just there, waiting for me to come back and spend some quality time.
With all breakups, you lose friends. I didn't know who to spend my time around, because I could not be around her and still be okay. I became a hermit of sorts, and hid from people. But, I made some new friends. Here are the guys from Salt City Drift.
Most of them don't know it, but they helped me as well. Having good, fun people to hang around is crucial to overcoming depression.
I love my hoopty coupe. From stock SR5 to GTS swapped. She now sits on Megan Spec RS coilovers, manual rack, Megan inner and outer tie rod ends, Megan tension rods, extended and boxed control arms, Cusco rear sway bar, SSR LongChamps (also have Advan A3As), and more.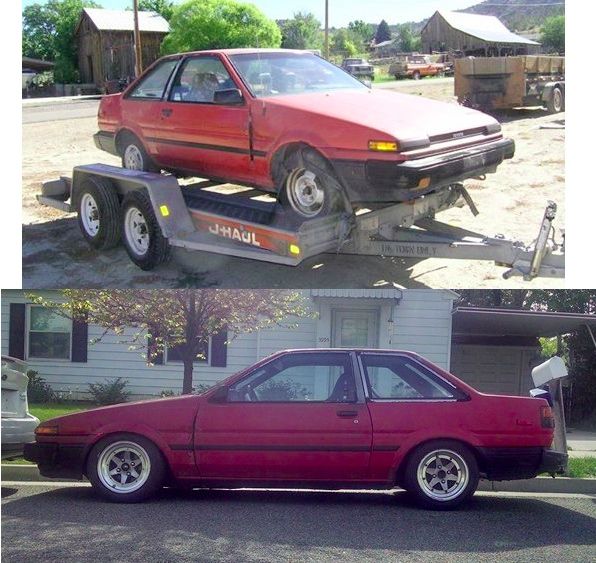 This corolla is more than just a car to me. It is a part of me. I have poured more than just blood, sweat and tears into this thing. I have poured my heart, my soul, my very being into this old bit of machinery. Seeing how far it has come... it reminds me how far I have come. It has been a little over 2 years now, and I'm doing great. My depression and anxiety have been essentially conquered.
I love my AE86. It saved my life. It was my anti-depressant, my stress reliever, my pain pills, my reality check, my therapy, and oddly enough, my friend. I have no doubt that I would be in a much worse place than I am now, if I hadn't of had this car to rely on.