Here's my car's specs. Nothing wrong with it. Look for cash to down a new prius.
Engine starts and runs great. A blast to drive. No a/c, no power steering. No leaks, no Smoke.
Currently sitting at a shop in Pasadena, CA. You guy can go there and check it out. I will be available to meet you there from 10 to 4 - Monday thru Friday. Let me know ahead of time.

Looking to get 4500 OBO.
Email me at
genova_1@yahoo.com
if you're interested.
Smog-ed about 2.5 months ago. Maybe only about 2 weeks left until you will have to smog it again on title transfer. so buy fast!
It was clean title until someone hit me in the parking lot. The damage is still on the car, cracked fiberglass hatch and reline tail light, and alittle dimple right under the passenger tail light. My stupid insurance salvaged the car, so when you register it to your name, you will have to get a salvage title.
Exterior
:
Converted back to stock front end - so front end has miss matched color with the rest of the car. Front is panda and rear is charcoal grey.
Will include full vertex replica Front, rear, and sides. (not installed)
Will include Jblood Replica front as well.
Will be on steelies (rims in picture not included)
H4 housing with super white lights.
JDM Kouki Redline Taillights (cracked)
Full Fiberglass DuckWing 1-Piece Hatch (cracked)
Deleted Rear Sidemarkers
Interior
:
**POWER WINDOWS**
Clean Dash *1 Small Crack* will include brand new dash cover
Amber Led Dash Lights
Momo Hub
Tomie Steering Wheel
Red Recaro replica reclinable seats with sliders and brackets (faded - will include new seats of the same model.)
Black Camlock Harnesses
C-Pillar Bar
Complete blue interior
Engine
:
Redtop Mr2 4age will all new gaskets without opening the engine. (including rear main seal.)
Recently replaced Clutch
Recently replaced Throwout Bearing
New injector o-rings
New intake manifold gaskets
New Timing Belt
Godspeed Aluminum Radiator
Mishimoto Temp. Guage Radiator Cap
Electric Slim Fan Conversion
Samco Silicone Purple Hoses
F5air Billet Oil cap
SunAuto Ground Wire Kit Blue
SunAuto Hyper Grounding Box Gold
HKS Mushroom Filter
OBX-R 4-1 Headers Painted Flat Black
5zigen exhuast with custom piping
Magnaflow Hi-Flow Cat
CUSCO Tranny Mount!!!
Suspension
Recently did an alignment.
88Rotor X-drilled & Slotted Rotors and Hawk pads All Around
IS300 upgraded wheel studs all around
TRD Blue Springs Front and Rear
Unknown Shocks Front and Rear
T3 Camber Plates
T3 Roll Center Adjusters
JIC Magic JDM Front Strut Bar
Replaced rear end with rebuilt Kouki LSD *Locks Up Hard*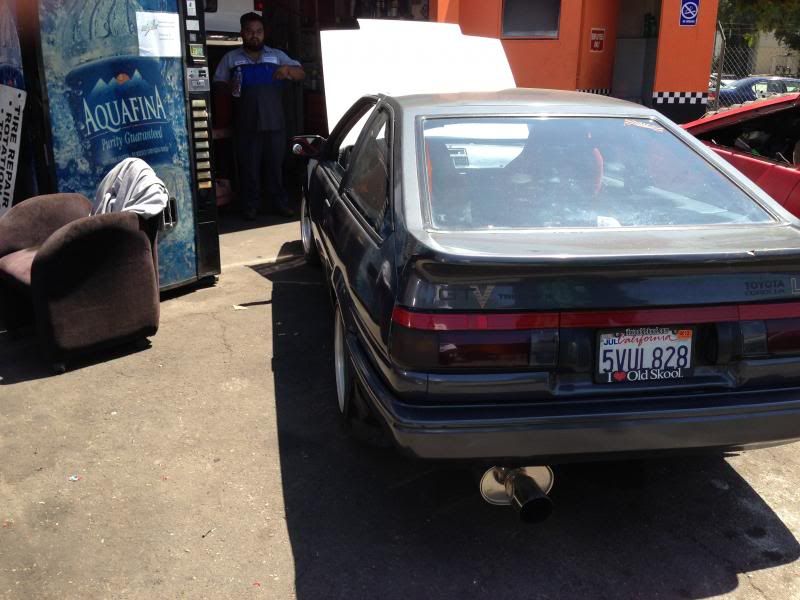 I'll get more pictures later. That's all i have for now.