Hey Guys, it's Grant here from the old forum. My old user name was
"Grant".

Flares for both AE86 and KE/TE applications.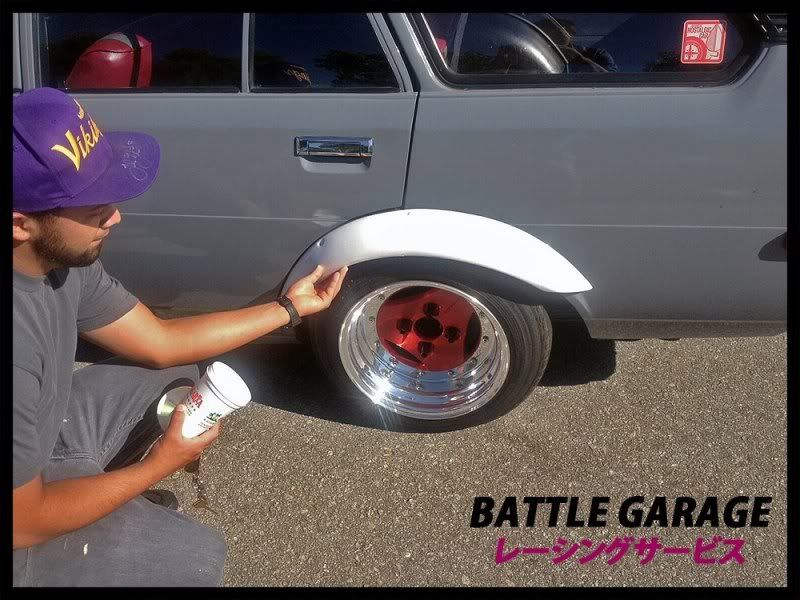 We are in the process of making JDM Coupe Wing replicas!
Picture courtesy of zerotohundred.com
Link to our store:
*****>>>>>>>>http://battlegarage.bigcartel.com/<<<<<<<<<<*****
I have been working on a project over the last few months called
Battle Garage Racing Service.
We have finished developing our +30mm AE86/TE/KE rear flares as well as our OEM Zenki lip reproduction. The flares are very similar to Run Free and Origin flares and the quality of our parts is second to none. These are very, very durable parts. We have tested various different recipes for the resins to find the right balance between being flexible and maintaining shape over time. We intend these parts to be the first and last lip or flares you will need - even after bumps, scrapes, and including impacts. Please check out our store to read more about them.
***Flares can be mounted in front of AE86 as well, and maybe TE/KE but I haven't been able to verify. Trimming will be required to fit whatever front bumper you are using. We unfortunately cannot provide this service because of all of the variations in kits and bumpers out there but the flares are easy to work with and won't crack when being modified.***
We have updated our storefront to allow special pricing if flares are purchased for front and rear as a set.
Link to product video/demo:
https://www.youtube.com/watch?v=tCnU-TPurQw&feature=youtu.be
All of our FRP parts are made of this flex material. We instructed Alex to twist hard, these parts are not flimsy!
This is very preliminary but we have started the process of making reproductions of JDM Coupe trunk spoilers/wings. I have been wanting one for my own car for quite some time but they are just too hard to get a hold of.
Other Corolla parts are in the works...and they are not just aero parts
[*]We also looking for input on what other parts you guys would like to see made!
Please like our Facebook page -

our Facebook contacts will be the first to know about new promotions and new parts being developed!
http://www.facebook.com/pages/Battle-Garage/179277158838709?fref=ts
Feel free to email me if you have any questions. Thanks for your time!