Do I need to say whom?
Paypal + PP fees, if local... cash always works
As always... shipping is extra.
No checks, no credit cards
I'll put the dessert up first.....
5
Atlantic covers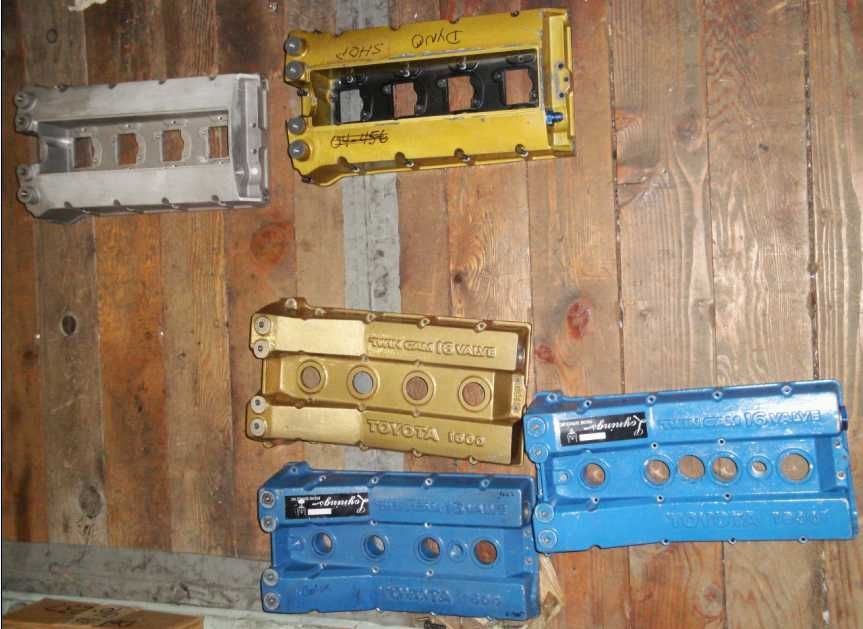 The top 2 are newer style, they mount COPs: Silver color one is aluminum $400, the gold tone one that reads "dyno shop" is
magnesium
$600
The 3 along the bottom are the older style they use conventional type ignition wires. These sell for $350 each.
Now after dessert we have......???????????
some intake manifolds All of these are designed for a DCOE type carb/throttle body. $75-$100 EACH
#1 and #2($80 each) on the left are bare, or mostly bare castings... the bolt holes have yet to be drilled. They are UNIQUE in the 4AGE world....
As you can see, this caster thought of increasing the port speed by including a port divider in the manifold itself... Along with the divider, the casting was purposely made small so this could be ported for either largeport, or smallport use!!!
#3 and #4($80 each) above are full on race manifolds for largeport heads... you can see the raised roof of each port so the head can be ported to further raise the roof.
#5 and #6($75 each) above are also full on race manifold for largeport heads, but for non raised roof applications
#7 ($100) is a untouched smallport to DCOE intake
Happy bargain hunting... once something is sold... it is gone, so *IF* you really desire one of those cam covers... or one of the unique manifolds.... ALL for CHEAP... post up here or email me
oldeskewltoy AT yahoo.com
IF you are emailing me... PLEASE put the part you want in the subject line