There is a ton of misinformation out there about cams and the 4AGE head. I constantly have people coming to me thinking they need to run shim under bucket for any cam over 8mm lift or 9mm lift or going off of other information that they learned online. Or even worse spreading this misinformation to others. You can most certainly run more lift on stock 16v buckets. How much does partially depend on other factors of the cam.
But I digress. One claim I have encountered a lot lately is that an unported 16v will not benefit from more than 8mm lift.
I have known for some time that there is benefit to running more than 8mm lift even on a stock head but I don't have any good hard data on the subject which leaves my hands pretty tied when someone comes on insisting that anything more than that is a waste. Tonight I was able to have a little chat with TED components and I was going to have him send me some information to try to support the fact that any motor could benefit from more lift. When I told him that this was a fairly widespread view in the online communities he asked that I start a thread on the subject and that he would post more information.
Many of us have seen these graphs and discussions from when oldskewltoy and burdickjp graphed some flowbench results. I post these because they are easy to find but I have heard many people claim that there is no benefit to running cams with more than 8mm lift either because they had read it online or some even because they say they did flow bench or other testing themselves to prove this.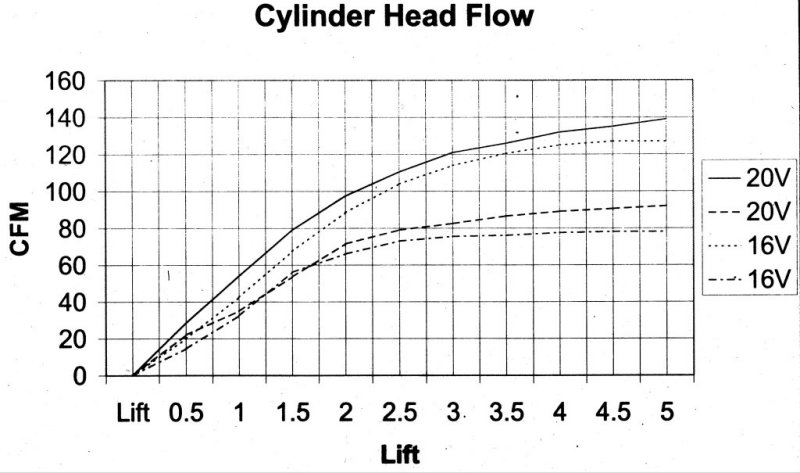 I will let him do most of the talking but one thing he did mention is that you can still benefit from running a cam with more lift than the plateau on a flowbench because the cam is only spending a small percentage of time beyond that point.
You can improve this by running a cam with longer dwell however it can still benefit you to run a little more lift than your flowbench plateau.
I will link him to this discussion and hope we hear back soon.