I bought a partially disassembled GZE longblock from someone several months ago. I'm trying to tear down the block, but I can't get the timing cog out. I've soaked it with PB Blaster, pried with two screwdrivers (actually one screwdriver and one very small pry bar... and always prying at opposite ends of the cog), heated the cog with a torch then pried it, tapped on the cog's flat surface with a hammer to try loosening it... nothing will make this budge. The woodruff key seems to be fine, so that's not preventing it from moving. There was some surface rust on the nose of the crank, so I'm wondering if there might be more rust between the cog and crank. Previous owner had this sitting in his garage for a few years before I bought it. He pulled it from a junkyard MR2.
I can't get much of anything below the lip of that cog, or between the cog and oil pump's timing cover mating surface. All the gear puller kind of tools I've seen have claws that are much too large to fit in that space. I even tried a battery terminal puller but it's too short to reach under the cog. The crank is more important as far as preventing any damage, but I would like to keep the oil pump if possible. What else can I try?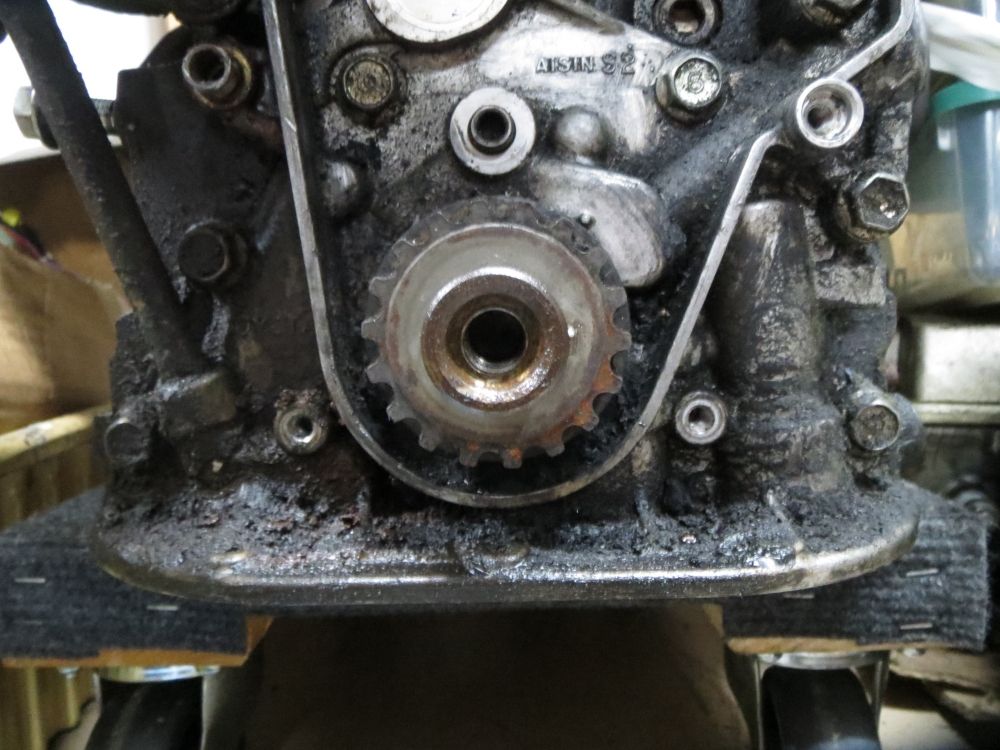 (Yes, it needs to be degreased badly)
Right now the block is standing on end on some wood planks (to protect the garage floor, mainly), and I've shot the cog/crank with tons of PB Blaster. It does appear to trickle into whatever gap exists between the two.