http://www.youtube.com/watch?v=0KBZCDMIKOk
alright guys, I have been meaning to make one of these since ClubFR switched over, just never really had ambition and if I don't do this quick I probably would't. I get back to this after class, but for now I'll let you sit here with anticipation
So from here on out guys, welcome to the DANGER ZONE:
http://www.youtube.com/watch?feature=pl ... 3-zaTr6OUo
Alrighty, well my dad owns a shop and I have been into cars for as long as I can remember. I was in to muscle cars especially 1969 Ponticac GTO Judge...Orbit Orange of course. I can't remember when or how but I got in to eclipses for some reason, I think a lot of it had to do with F&F, I wanted a 2nd gen, but some how a first gen landed in my lap, GS 4g63, manual, all the cool race car **** a 16 yr. old needs. Got smoked by an old lady in a Subaru Outback on our strip we cruise on, car never ran right, all around not an enjoyable car. I sold it and a 83 Regal fell into my lap, grandma car, under the radar, good high school car, had it for 3 months. I can't remember how or why, maybe it was my inner filipino, but I started getting like really in to old school Toyotas, especially the AE86 chassis, discovered Initial D and my quest for an AE86 began. Found an SR5 coupe on Clist for $300, it was rusty as hell and looked like a bag of ****. My dad was with me and he just couldn't understand why I had such a chubby for this turd sitting in front of me, I convinced him that I would die without this car and he said fine, so I pai9d the old guy who had it $275 and I was on my way to become Takumi Fujiwara. It looked like the guy painted it white with Home Depot paint and a cheap brush but it was white nonetheless. I taped it off and it soon became a panda Trueno with the stripe about 4" too high, but I didn't give two shits, I was on MT. Akina man! I also couldn't get over this video:
http://www.youtube.com/watch?feature=pl ... 2IWxqvsSY8
DUKE OUT!
I drove it hard, hard parked it, fanboyd the **** out of it, it was basically just a stock pile of **** that I thought was the coolest thing on earth. I tried learning how to slide with it, I could do some corners, but I was thinking I was Takumi the entire time, my want was there but the skills just were not there, I wen't into Overdrift a lot, and by overdrift I mean I spun out a lot, some times in front of people, never damaged anything or got busted for that stupid ****, I don't know why. I had the car for a while but I( realized that the damn thing was just too far gone to build. I threw it up on craigs list and traded it for a '93 EG 4 whore with a B7, I was a HONDA4LYFE guy the rest of high school. I was poor a lot so I never had a bunch of cool **** on my car, everything was 2nd hand from c list or friends. Dumped on ebay coils, DA wheels, 10" MTX sub, hacked up AEM intake and removed a/c. I was a straight up G, car started acting up so I sold it for $1750, bought an EJ8 the next day and then I started to get into driving. I bought H&R springs, D/C header, ebay intake, LS Meshies with RT615's on them, I was an autocrosser and I was just way cooler than all those street racer guys. I usually placed 3rd or 4th in H prepared, which I figured was pretty damn good seeing as how everyone else had waaaaaaaaayy more money stuck in their car.
I'll fast forward a bit. I Honda Fagged it out for a while and then High school was over, went off to College and came back and then an Old Guy cut me off in my beloved Civic. I bought it back added **** I always wanted but it wasn't the same car anymore.
I started to have an urge for something different, I wanted a Corolla again. Asked around, found out an acquaintance from a while back had one for sale.
went there with $500 in hand drove away with a rusty as **** '84 SR5, needed a harmonic balancer but she drove back to the shop w/ out over heating. Still had the civic and drove it around, worked on the SR5 on the side, filler foamed all the holes in the body, rear strut mounts were shot, so I fabbed up a bar a new mounts, there were still holes in the wheel wells so I took some McDonalds bags, some filler foam, and some rubberizer spray and went to town. Car wqas full of win. I cut the rear springs and threw on some ebay civic coil overs that I then also cut the springs on so it would drop more(spring rates must've been in the thousands) car handled like a bag of ****, but it was a dumped ae86. I added MK1 golf fender flares to hide the rust and some AE92 side skirts and she was pretty good looking. was flat black with Shoop Da Whoop on the hood
then I decided to become a bawws so I went purple (now I have pics)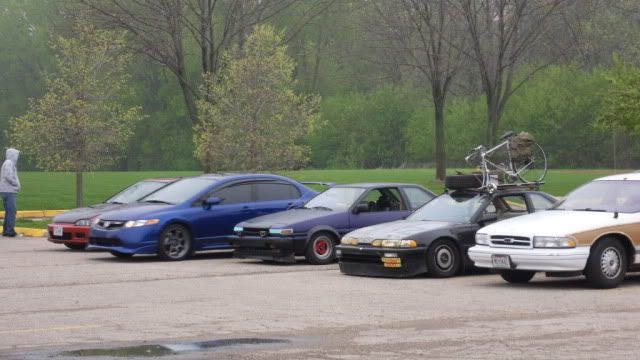 guess I dont have many pics of it....
The entire time I owned my purple panda I was inspired by a dude on Club4ag.... a Canadian, his name was DoBoy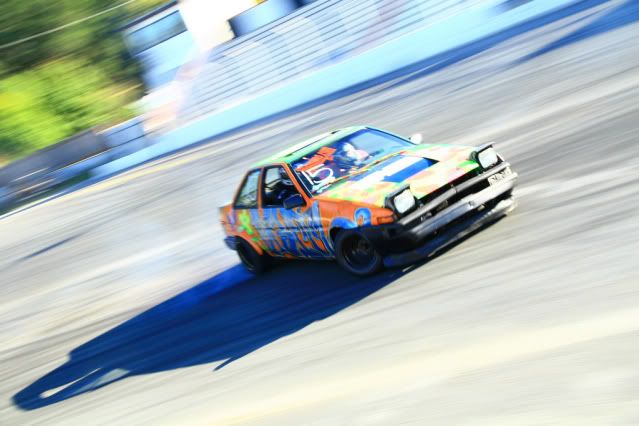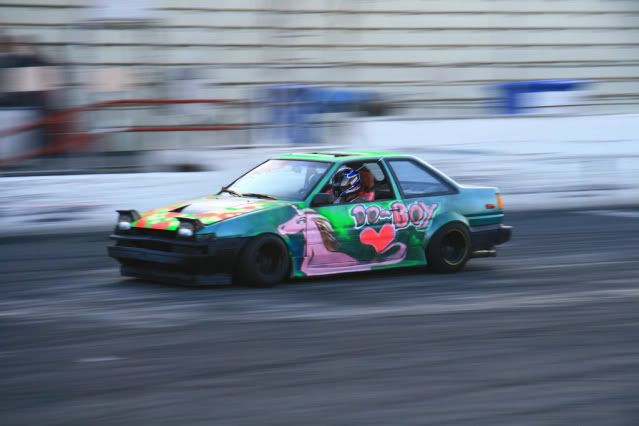 dude worked hard and played hard and I though his **** was baller, exactly how bad ass I wanted my corolla to be, that one never touched DoBoys level of Unicorn godliness
til later