I did my OEM Sideskirts install yesterday, and since I documented it thought I might as well post a DIY on it to help other lucky 86 owners who managed to acquire a pair of these JDM bad boys!

-Step One-

Items you'll need:
AE86 OEM Sideskirts with Endcaps (Obviously LoL!)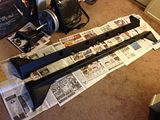 Regular Car Jack, and or Crocodile Jack if present. (I believe you can rent these from Autozone!)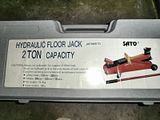 Jack Stands



Power Drill (Any brand will suffice)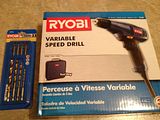 Drill bit (Make sure the drill bit is smaller than the actual screws you'll be using)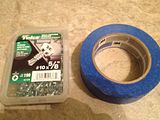 3M Blue minor adhesive tape (to hold skirt in place as you drill the necessary mounting holes.)
Tek Self Tapping Screws 10x5/8 (You don't need 190pcs. 6 screws on each side will suffice.

*OEM Toyota Rubber Trim Molding $16 each, $32 + tax for a pair (Toyota calls it "Protector")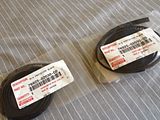 You'll only need a pair of these if your OEM Sideskirts didn't come with it, and or it is perished, and in need of replacement. Part Number is on the pic, so you'll know which one to order.
When ordering the rubber trim protector make sure to specify color either Black, or Gray. Rubber trim protector is actually for a '03 Toyota Corolla Type S, however it works, and fits (with about 4.5 inches to spare from both sides if measured correctly!)
One can also fabricate their own rubber trim protector moldings if they'd like to save some cheddar,
or if it's absolutely impossible to locate a pair in their own area.
Just measure the rubber moldings as you trace over the necessary area on the sideskirts. Measure + Cut + Peel & Stick. And then repeat process on the second skirt.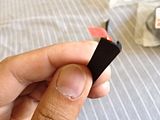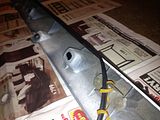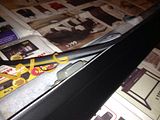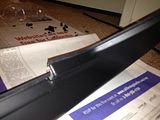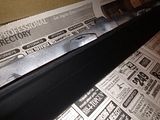 Should look like this when done properly.


[Sorry for the lack of pics of the actual sideskirt mounting, however you'll notice it's pretty straightforward from here on out.]

-Step Two-

Whichever side you choose turn the wheel outwards to give yourself some workspace. Jack the front tire up, and mount the endcap side first. You can also take off the front mudflaps at this point if you have one. No drilling necessary as there should already be 2 holes present. Most 86's do, but if somehow yours dont have holes, then make 'em.
With the Endcaps mounted on the Skirt, carefully mount it on the side until it sits flush on all corners, and then tape it in place using the 3M Blue minor adhesive tape.

TIP: If no tape, you can also use a second jack to hold the skirt in place!

Pay attention the rubber trim protectors, make sure they are aligned, and not getting smashed.
The holes you need to drill should be straightforward, and get on drillin' (Make sure to wear protective glasses, as flying debris might cause injury to the eyes!)

-Step Three-

With the necessary holes drilled, you are now ready to screw in those self tapping screws and mount your precious OEM AE86 Sideskirt in place.
By now, the front end cap side, the two screws underneath should be already screwed and mounted. Now its time to drill the necessary two holes at the rear.

FACT: Contrary to popular belief, one does not necessarily need to remove any tires in order to mount a AE86 Sideskirts. Jacking up the 86 so that the tires hang low, gives enough room to be able to mount the sideskirts properly, securely, and safely!

see update below...



-Step Four-

Jack up the rear so that the rear tire hangs low giving you enough room to be able to drill that hole you need. After that, repeat same steps for the other side then.... BAM! you did it! You are done!
Like AE86Kai said "After mounting your sideskirts, step back & smile!"

TIP: Not removing the rear tire only allows you to mount the rear of the skirt with only one screw on each side, which is enough to hold the skirt securely!

When done properly it should look something like this...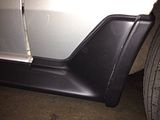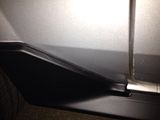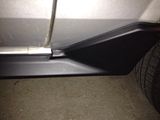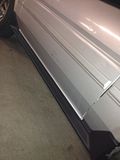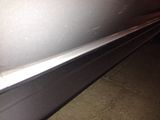 Before...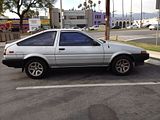 After...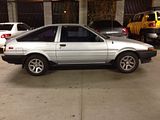 This is dedicated to all the countless people here on club4ag for all the help
they've contributed, and keep contributing. Just doing my part. Hachiroku for life! ganbatte ne!!!


- U P D A T E - 07/8/2013





-While I only used 2 Self Tapping screws as previously stated, I went ahead and added 2 more Self Tapping Screws for that extra piece of mind!
-While I mentioned previously to use a smaller drill bit to drill that necessary hole
you can save sometime and headache by just using the actual self tapping screws that you're going to use anyway to drill that necessary holes. (Now Now....we're all adults here....well most of us.)
-While I mentioned you can just simply jack up the rear tires to screw in the necessary bolts on the underside. This only applies to STOCK Suspensions. Otherwise, lowered suspension will require you to remove both rear tires. And yes, you have to do this unless you want your $600 OEM AE86 Treasure falling in the middle of the street!
This is RE-POST from the old pre-crashed servers from the Archives (thank God!) view it here:
http://web.archive.org/web/20121115031626/http://forums.club4ag.com/zerothread?id=106758